A Look At The Buccaneers' Stable Of Linebackers
March 12th, 2019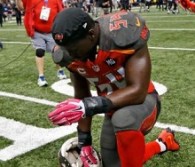 Now that a gargantuan contract has been bestowed upon Kwon Alexander by the 49ers, the Bucs have 10 other linebackers on their roster to consider.
You won't need to sit down to read this. And your socks certainly will stay on your feet.

Kendell Beckwith (injured)
Devante Bond (just re-signed — injury-prone and more of a special teams guy)
Riley Bullough (might not make another NFL roster)
Jack Cichy (blown knee)
Lavonte David (stud)
Cameron Lynch (free agent tomorrow)
Kevin Minter (free agent tomorrow)
Corey Nelson (NFL veteran with 6 career starts)
Adarius Taylor (free agent tomorrow)
Emmanuel Smith (Who?)
Combine this with the Bucs' no-name, no-production secondary and its easy to understand why a chunk of fans are nervous.
The good thing is there's plenty of time to add quality bodies, and there's a solid defensive coaching staff in place to let us all see how much of a difference coaching can make.
Joe sure hopes Year 8 for 29-year-old Lavonte David is a big one. He might be the team's No. 1 X-factor on defense — unless he's playing alongside a rookie linebacker drafted at No. 5 overall.