Bucs Offseason Fact & Fiction
March 1st, 2019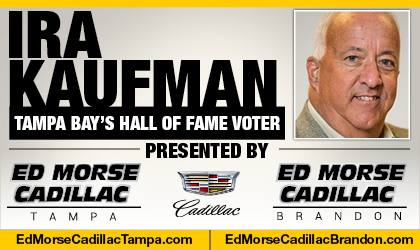 BY IRA KAUFMAN
From late February to late April, NFL head coaches and general managers have a 2-month license to lie.
They talk about free agency and the draft but give away very little.
They talk about the season that just concluded and the one dead ahead, but when you look back, many of those offseason remarks are proven comical.
The Bucs are certainly no different in this game of scam and scram.
Let's blitz the gap between fact and fiction with a few reminders of Buccaneer past.
Sometimes, Buc coaches get it right. Here's Jon Gruden in the spring of 2007, armed with the No. 4 pick in the draft and talking up Adrian Peterson.
"I personally think this running back might be the best back I've ever seen coming out of college. This is a punishing guy. You go back and watch him as a freshman. In nine games, he has 1,800 yards. This guy won't go out of bounds. Every time he carries the ball, he tries to hurt you."
Gruden should have followed his instincts. Peterson went No. 7 to Minnesota, three picks after the Bucs drafted Gaines Adams.
A year later, Gruden was asked about a speedy receiver named DeSean Jackson.
"The guy at Cal is 169 pounds. Is he going to be big enough? He's certainly fast as hell. He'd be a hell of a returner."
In 2009, I asked Raheem Morris about the top quarterback prospects in the draft.
"In the top three, you've got all underclassmen. There's the kid at USC (Mark Sanchez), who's sharp and understands the speed of the game a little bit. We're talking about a big strong-armed kid down at Georgia (Matt Stafford), can throw it a mile.

"I know Josh Freeman really well. I was with him for a year. Absolute specimen to look at, physical, tall, big arm, deceptively quick. He's got that Ben Roethlisberger effect where he's hard to tackle once you get back there. I don't know if he's a Daunte Culpepper type because Culpepper was a big-armed thrower down the field. This kid has a lot of touch as well."
In 2011, Morris was asked about the Glazers.
"They would never want me to defend them on any stage. That's not who they are. They're not front-runners. They'll make hard, tough decisions because that's what they do. Really for me, they've been supportive. They're given us direction, they've given us a plan. My job is to follow it.
"They're owners for a reason. I've got to figure out how to make those guys happy. They don't work for me — I work for them. Some of the criticism is unfair. There's a reason they have been a very successful family for this amount of years, because they know what they're doing with their money. There's no doubt in my mind they want to win. You see those guys in the locker room in full force, full family, and they look like fans. That's the beauty of it for me."
In 2013, Greg Schiano fielded questions about third-year DE Da'Quan Bowers.
"He's a tremendous athlete for a man his size. He's explosive, and he's done it. It's our job to make him do it consistently. When Da'Quan hurt his Achilles, it changed his body. Rather than being negative, he got with our strength staff and changed his body. When guys do that, there's a different confidence about him."
Can he be a double-digit sack guy? "He needs to be and we need him to be. He should be. That's why we drafted him," Schiano said.
Flip the page to Lovie Smith in 2014, shortly after targeting Michael Johnson in free agency.
"We look at the character of an athlete, what they're going to bring to our team. We're talking about the total player, on the field and off the field. It is very important what Michael does off the field. Once you meet him he'll let you know that he'll be involved in the community. But it's not just that. We can go down the street and get a lot of guys that are good in the community. It's about winning football games and for us to have success defensively, it has to start up front."
And in 2015, Arians talked about his joy in seeing Todd Bowles get an opportunity to be head coach of the Jets.
"I think it took about five years too long to be a head coach. I really thought I'd be working for him. When he was the interim coach in Miami, I called him and said, 'Hey man, I'm going to need a job one of these days. Just keep me in one of those consultant jobs.' "It's good to see him get it. He's going to do a fabulous job. He's the brightest football player and probably the brightest coach I've been around. He can teach it. He knows how to simplify the game, put you in a position to be successful and that's what good coaches do."
Ira Kaufman began covering the NFL as a New York Giants beat writer in 1979. He arrived on the Buccaneers beat in 1985. The corporate leash was removed from his neck when he joined JoeBucsFan.com in July 2016. The award-winning Ira Kaufman Podcast fires twice per week, and Ira's columns appear thrice weekly, except when Ira is on special assignment. Tampa Bay's only Hall of Fame voter also is a popular guest on various national radio and on local TV.