Ben Franklin, Bill Walsh & The 2019 Bucs
March 4th, 2019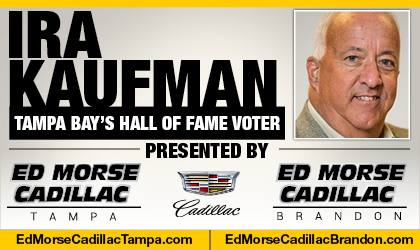 BY IRA KAUFMAN
Draft and develop. Draft and develop.
There's no way around it, as any long-suffering Buc fan can tell you.
When this franchise enjoyed success, it was because talented young players were nurtured by outstanding coaching staffs to reach their potential.
During the John McKay era, Lee Roy Selmon and Doug Williams led the way and both first-round picks are now in the Ring of Honor.
When Tony Dungy turned the Bucs around, it was Derrick Brooks, Warren Sapp, John Lynch, Ronde Barber, Mike Alstott and Warrick Dunn at the forefront.
Draft and develop.
So here comes a new coaching staff hand-picked by Bruce Arians, determined to unlock the skills lurking at One Buc Place.
Which Bucs are crying out for development? Let's start with a couple of young defensive backs with much to prove in 2019.
Vernon Hargreaves arrived with so much promise in 2016, selected out of Florida with the 11th overall pick. He started all 16 games as a rookie, posting his only NFL interception and registering 76 tackles as the Bucs went 9-7 under first-year coach Dirk Koetter.
Since that point, injuries and ineffectiveness have plagued Hargreaves, who was drafted as an outside corner but has played more effectively as a nickel back. If Hargreaves had shown more in his first two seasons, the Bucs wouldn't have chosen a pair of corners in the second round of the 2018 draft.
This new defensive staff needs to bring out the best in a first-team All-SEC selection for each of his three years at Florida. Buc fans are waiting to see stellar ball skills from Hargreaves, who is still only 23.
Justin Evans, also 23, started 11 games as a rookie in 2017. He picked off three passes, including his first as a pro against Tom Brady, and when the season ended the Bucs believed they had a stud safety on their hands.
A toe injury limited Evans to 10 games last year and even when he was healthy, he didn't look like the same player. The year began splendidly — with a fumble return for a touchdown in New Orleans and an interception against Ben Roethlisberger in Week 3.
That represented the only interception by the Buc defense in the first 10 games … still hard to believe. Now the Bucs are looking for a veteran safety and Evans has to prove himself all over again. Let's hope he isn't the second coming of Bradley McDougald, a promising safety the Bucs gave up on two years ago.
McDougald is now considered a stalwart in the Seattle secondary.
More Coaching Challenges
Who else needs to be coached up? Jameis Winston, of course.
While Arians will provide the tough love, Byron Leftwich will provide the playbook for a fifth-year pro still seeking to establish himself as a franchise quarterback.
"He's a talent guy," Tony Dungy said, "and that's what coach Arians will teach Jameis and preach to him. You can still be explosive. We can still have all the big plays that we want to get. And you know what? We can still take care of the football and protect it and be a low-turnover team."
If Winston remains the same quarterback under a new coaching staff, he'll likely be taking his skills to a new team in 2020.
Arians understandably wants a year to evaluate Donovan Smith on a daily basis.
There's no question about his durability, but Smith needs to work on his technique and fundamentals. Perhaps better coaching can pry Smith out of the middle of the NFL pack.
Talent counts, of course, but coaching matters. Jason Licht has gone out of his way to avoid any criticism of Koetter's staff, but he can't wait to see what this new group can do with Evans, Hargreaves, Smith and Winston.
Condensing Intellect
Hall of Fame coach Bill Walsh was once asked to describe the blueprint for success on the NFL level.
"The key to being a modern football player is the ability to respond quicker, both mentally and physically, than the other player," Walsh said. "Some people are naturally quicker physically. But to win, you need to be quicker as a team. You must beat your opposition to the punch every time.

"Physical strength and speed are important advantages, but even more advantageous is having the training that permits you to respond intelligently to whatever confronts you. That means more precision, better execution, and quicker response than your opponents. Under the extreme stress of game conditions, a player must condense his intellect and focus it on thinking more quickly and clearly than the opposition."
That's the task Arians is charged with.
He's already stated this is a more talented group than the Arizona roster he inherited in 2013. Can he maximize that talent?
"Some coaches rely on relatively simplistic plans," Walsh said. "When their plans don't work, they say that it was the players who did not block hard enough, did not run hard enough, or just were not tough enough. The responsibility for the success of the team starts with the coach, who develops the plan that is then executed by the players—who are extremely well-prepared."
Remember the words of Benjamin Franklin, who brought the heat back in the day: failing to prepare is preparing to fail.
Ira Kaufman began covering the NFL as a New York Giants beat writer in 1979. He arrived on the Buccaneers beat in 1985. The corporate leash was removed from his neck when he joined JoeBucsFan.com in July 2016. The award-winning Ira Kaufman Podcast fires twice per week, and Ira's columns appear thrice weekly, except when Ira is on special assignment. Tampa Bay's only Hall of Fame voter also is a popular guest on various national radio and on local TV.