Advanced "Ricochet Ability"
March 21st, 2019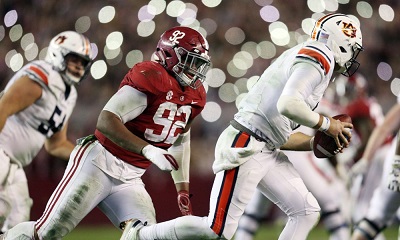 What a treat it was. Hall of Fame general manager Bill Polian dove deep into the stunning class of defensive linemen in this year's NFL Draft on SiriusXM NFL Radio last night.
Yes, Polian thinks DE Nick Bosa is a super-safe bet to have a successful career off the edge. But Polian's favorite D-line prospect, it seemed based on his long breakdown, is a guy who might be there for the Bucs at No. 5 overall. He's the pride of Alabama, defensive tackle Quinnen Williams.
Polian has looked at the film and sees a true pass rusher who embraces the grind of the trenches.
"The bottom line is this is a one-gap player with a lot of ferocity," Polian said. "The arm length bothers you a little bit but he's got ricochet ability, meaning he can blast into a blocker, come off quickly, free himself, redirect and get to the passer. He plays every down — in the parlance of the trade, an all-day sucker. And he's a guy that arguably could be the first pick, as well. An outstanding college career."
As Joe wrote last week, Williams very calmly explained that he thinks he's smarter than the rest of the D-line crop in the draft. It was an interesting answer to the question posed to him.
Regardless, the Bucs should be scoring a can't-miss defensive lineman at No. 5 overall. It's a no-brainer, assuming they think a perennial Pro Bowl-caliber guy is there.