15 Teams Shopping For A Slot Receiver
March 6th, 2019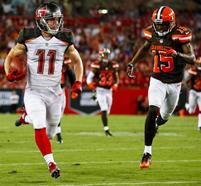 This was the right offseason for new mega-millionaire left tackle Donovan Smith to become a free agent, and it is shaping up the same way for reliable Bucs slot receiver Adam Humphries.
Not everybody needs a super solid but not spectacular guy like Humphries, but it might feel that way. Per a report today from Jason La Canfora of CBS Sports, the former NFL Network insider, 15 teams are hunting for a good slot receiver in free agency.
Which teams, you ask, are making inquiries and doing significant work on free-agent slot receivers? Well, to start, the Bills, Jets, Dolphins, Patriots, Titans, Colts, Jags, Packers, Lions, Cowboys, Skins, Cardinals, Chiefs, Broncos and Raiders. Golden Tate is the most accomplished of the group – but is also on the wrong side of 30 – and he is seeking $13M plus a year, I'm told. Adam Humphries has priced himself out of Tampa and is poised to do very well, perhaps reaching the $10M a year mark. Cole Beasley will have the chance to get more volume somewhere besides Dallas, and he too should be in that $10M range. John Brown is seeking $8M-$9M a year, sources said. Oh, and Julian Edelman is very much in line for a contract extension. Jameson Crowder is coming off a down year, but he is going to do just fine in this market, as well.
With all the intense smoke the Bucs have been blowing, it's hard to believe Humphries will stick around Tampa unless he desperately wants to stay in town. And no, Joe doesn't think Humphries will reach $10 million per year as stated here. Maybe he scores $7 million with 2 1/2 years guaranteed. Maybe.
Perhaps most interesting from La Canfora's broad free agency report is buzz that all-world Ravens linebacker C.J. Mosley could land in Arizona. Man, Joe would love to have that guy in Tampa as a true culture-changing force on the defense, schematically and emotionally.