The Many Suitors Of Adam Humphries
February 13th, 2019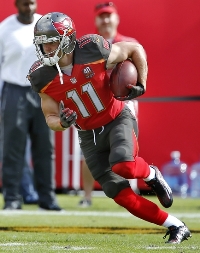 Yeah, yeah, Bucs fans want super-reliable receiver Adam Humphries back in 2019. Jason Licht and Bucco Bruce Arians have said the same thing publicly.
But lots of other times likely want the free-agent-to-be, as well.
It's highly likely the Bucs could have signed Humphries to a long-term deal last season, but they went the restricted free agent tender route (just under $3 million for 2018) and now they'll have to pay — if they get the chance.
The Golden Tate trail is worth following if you're wondering who might chase Humphries. The Lions traded Tate to the Eagles at the trade deadline last year and got a third-round pick. (Hmm, could the Bucs have scored that for DeSean Jackson back in October?). The Lions didn't realize what a negative effect that would have on their offense.
Tate was missed and now there's clamoring in Detroit for Humphries. The Eagles could use a replacement for Tate, and there's chatter that the Ravens and Titans are pining for a slot guy like Humphries. And of course, the teams with huge piles of salary cap dollars are always a threat.
Joe suspects Humphries is looking for the biggest possible payday after four year of making little money by NFL standards. Joe wouldn't blame the guy.
Will the Bucs really pay top dollar for Humphries if they believe Chris Godwin is a true No. 1 or No. 1a receiver, and that O.J. Howard is one of the NFL's great weapons? And would they cough up all that cash considering their needs on defense?
Big decisions ahead for Arians.