The Bucs And Cameron Artis-Payne
February 6th, 2019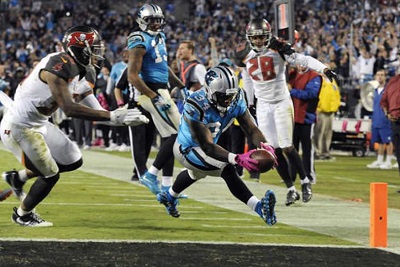 If you play running back for the Panthers and your name isn't McCaffrey, then you're screwed. You simply don't get on the field.
Just ask C.J. Anderson.
We all know Anderson's story of being buried behind McCaffrey's 326 touches last season before Anderson was cut and became a hero for the Rams.
But who else is wasting away behind McCaffrey?
One guy is pending free agent running back Cameron Artis-Payne. He was a one-year stud RB for Auburn (1,608 yards in 2014) before bolting to the NFL and going to the Panthers in the fifth-round of the 2015 NFL Draft.
Artis-Payne largely has been buried on the Panthers' depth chart ever since, but he has been effective when he's gotten a shot — 118 career carries has netted him a 4.2 yards-per-carry average and five touchdowns, including this one to close last season.
"I tell you, he's got a tremendous work ethic going. His attitude has been great, just like it was last year in training camp," Panthers coach Ron Rivera told the Charlotte Observer about Artis-Payne after Anderson was released in November. "One of the things I wish we had done was given him more exposure, just so we know what we've got.

"It's a little bit of a learning process for him and for us about him, as well, so we're excited for him to get this opportunity."
Artis-Payne was a late bloomer in football, so he turns 29 years old this summer with that very low mileage on his tires.
Joe hardly sees him as an answer to the Bucs' running game issues. But it sure would be nice to throw some highly competitive wild cards like Artis-Payne into the Tampa Bay running backs competition.
You just don't know what he might really be. And the Auburn running backs certainly have been impressive lately, especially relative to their draft status.
Artis-Payne would come cheap and Joe sure hopes the Bucs do their diligence on the guy.