Pointing Fingers
February 18th, 2019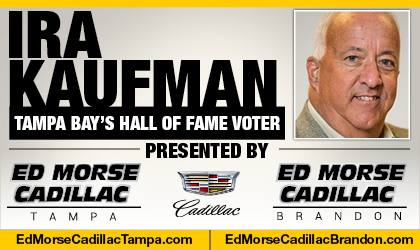 BY IRA KAUFMAN
Dirk Koetter's in Atlanta, Mike Smith is in the broadcast booth and Vinny Curry is looking for work.
So much has transpired since the 2018 Bucs reported to training camp to begin the organization's annual quest for NFL relevance. We know what happened, but we still don't know why it happened.
What in the world went awry after a stunning 2-0 start with a backup quarterback? Had the Bucs dug an early hole during Jameis Winston's suspension, that 5-11 finish would have been easier to digest.
Instead, the Bucs pulled off the upset of the season in New Orleans, then outplayed the defending Super Bowl champions.
For a brief, shining moment, Tampa Bay was the talk of the town. Then all that talk turned into a death rattle. And when the carnage was complete, I asked Demar Dotson what went wrong.
"We left a lot on the table," he said. "I thought in training camp that this would be a good football team, that we had all the pieces we needed. But we beat ourselves in a lot of football games. We just couldn't get over that hump of beating ourselves."
Ultimately, the Glazers agreed.
Incredible Dive
In dismissing Koetter and sticking with Jason Licht last month, ownership spoke loudly. That was a tacit admission the coaching staff didn't get the most out of the talent. Nobody at One Buc Place anticipated a 1-7 slide that plunged Tampa Bay from the top of the NFC South to the basement. There were a lot of culprits, but one issue took center stage.
Better grab a seat, people: during the 8-game tailspin that wrecked a promising season, the Bucs took the football away only twice while committing 27 turnovers.
For those of you who flunked third-grade math, that's a big, fat minus-25. That is simply incomprehensible … even in Pop Warner.
"The biggest thing is we should have been better," Dotson said. "We competed hard in training camp and we had every piece that we needed. I swore I thought this was the year, especially after we beat New Orleans in New Orleans and came home and beat Philly.

"I said now this is probably my opportunity to go to the playoffs. Then we hit that slump. I didn't know what it was. Most talented team? Hands down. Best offense I've been on. We could have put up points with anybody, but we got in our own way."
The primary culprit was lousy defense, but let's not forget that the Bucs averaged only 21 points during the second half of the year — despite an intact offensive line and all those weapons.
Buc fans are curious to see if Bruce Arians can supply some needed juice. He turned around the Cardinals in a flash that first season in the desert and he deems this an easier reclamation project.
We'll see.
Missing Edge
Arians likes the talent base here and he likes Winston's ceiling.
What's been missing is the winning edge, a confidence to make plays when the game is on the line. If you've been around Arians for more than a few seconds, you realize he has enough personal confidence to make up for any shortfall.
"You compete hard and you come up short," said Dotson. "You don't get any moral victories in this league. Fans don't care. Nobody cares really."
Buc fans care. They keep coming back for more, thinking this will be the year.
One of these years, those prayers will be answered.
Ira Kaufman began covering the NFL as a New York Giants beat writer in 1979. He arrived on the Buccaneers beat in 1985. The corporate leash was removed from his neck when he joined JoeBucsFan.com in July 2016. The award-winning Ira Kaufman Podcast fires twice per week, and Ira's columns appear thrice weekly, except when Ira is on special assignment. Tampa Bay's only Hall of Fame voter also is a popular guest on various national radio and on local TV.