Middle Class Jameis Winston
February 22nd, 2019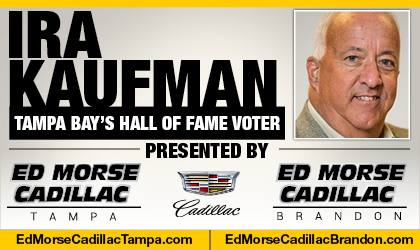 BY IRA KAUFMAN
We're four years into Jameis Winston's NFL journey and he's still stuck in the middle of the road.
The first overall pick of the 2015 draft isn't elite and he isn't a bust. Buc ownership has stuck with him through a suspension and a chronic issue with giveaways.
Ironically, Winston's blind-side protector is also toiling in the NFL's middle class. Donovan Smith, the 34th overall pick in 2015, is also likely to remain a Buccaneer through the first season of the Bruce Arians regime.
When ranking the league's starters under center, there's a dandy dozen that sit at the top. Some are wily veterans and some are youngsters bursting with talent.
Winston is not among them.
Put them in any order you wish, but the top tier consists of Tom Brady, Drew Brees, Aaron Rodgers, Ben Roethlisberger, Patrick Mahomes, Russell Wilson, Andrew Luck, Philip Rivers, Carson Wentz, Jared Goff, Matt Ryan and Cam Newton.
Wouldn't it be nice if Winston manages to crack the code and join this distinguished group by the end of the 2019 season?
If that happens, the Glazers would be thrilled to give him a big, fat extension and restore him as the face of the franchise.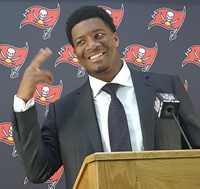 He's not there primarily because Winston hasn't established himself as a winner. There are plenty of reasons for that ugly 21-33 career record, but in the end an elite quarterback overcomes personnel issues.
In The Pack
At this point, Winston belongs in the middle group, accompanied by Deshaun Watson, Kirk Cousins, Dak Prescott, Matt Stafford, Baker Mayfield, Mitch Trubisky, Derek Carr, Eli Manning, Marcus Mariota, Andy Dalton and Alex Smith.
Even before Arians gets his greedy hands on him, I would take Winston over Joe Flacco, Josh Rosen, Josh Allen, Sam Darnold, Blake Bortles, Case Keenum, Jimmy Garoppolo and Lamar Jackson.
If Winston can clean up his fumbling problems, that would go a long way toward his development. There's been a lot of focus on his proclivity for throwing picks, but let's put that career 3.0 percent interception rate in some historical perspective.
That pick percentage is lower than Hall of Famers John Elway, Kurt Warner, Brett Favre, Warren Moon, Roger Staubach, Fran Tarkenton, Dan Fouts, Bart Starr, Sonny Jurgensen, Johnny Unitas, Len Dawson, Bob Griese, Terry Bradshaw, Joe Namath and Ken Stabler.
To be fair, those quarterbacks weren't operating during an era when the NFL made a conscious decision to generate more points by tilting the rules toward big passing numbers.
Mayfield turned in a terrific rookie season in Cleveland, and one of the reasons Todd Monken will be running the Browns offense this fall is his work with Winston in Tampa.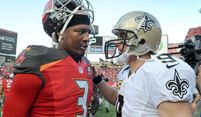 "The one thing from what I hear about Baker that is similar to Jameis is Jameis is a tremendous young man," Monken says. "He loves football. He is very intelligent. He is passionate about it. He owns it. Those are all of the things that I hear about Baker – a guy that loves football, that loves to compete, that loves to be around the building and owns his mistakes, which is a great start."
The Bucs didn't draft Winston to stall in the middle of the pack. They believed he had star quality, so here comes Arians to wish upon a star.
Middle of the road might work in NASCAR, but the Glazers want more.
And if Winston doesn't step up in class, it won't be Arians waving goodbye to One Buc Place.
Ira Kaufman began covering the NFL as a New York Giants beat writer in 1979. He arrived on the Buccaneers beat in 1985. In July 2016, the corporate leash was cut from his neck when he joined JoeBucsFan.com. The award-winning Ira Kaufman Podcast fires twice per week, and Ira's columns appear thrice weekly, except when Ira is on special assignment. Tampa Bay's only Hall of Fame voter also is a popular guest on national radio shows and on local TV. All his work at JoeBucsFan is presented by Ed Morse Cadillac Tampa and Ed Morse Cadillac Brandon.