Matt Bryant And The Kickoff Problem
February 26th, 2019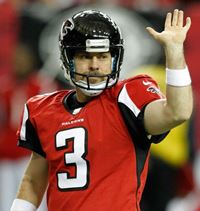 Yes, a lot of Bucs fans are yearning for Tampa Bay to sign free agent kicker and former Buccaneer Matt Bryant, who turns 44 in May.
That's right, 44 and coming off an injury.
There's a divide on this subject in the hallowed hallways of JoeBucsFan.com world headquarters.
Typing this is a Joe who thinks the move would be preposterous and silly. Snap out of this kicker lunacy, Bucs, and sign a young guy who can get the job done for several years, not a guy unlikely to be around when the Bucs are true Super Bowl contenders. The other Joe says he could understand and embrace a Bryant signing because he's been effective with the Falcons and the injury and age aren't the biggest deals.
Well, a potential Bryant signing is more complex than meets the eye because he doesn't kick off. Joe didn't realize Bryant hadn't handled that important duty since he left the Bucs.
 Chicago Tribune beat writer Brad Biggs noted this in a recent Q & A session with fans.
I just saw that Matt Bryant got released from the Falcons. I know he's 44 years old so wanted to know how much you think he has left in the tank. — Jeff J., Parts Unknown

It didn't take long for a couple of questions about Bryant's availability to hit the Mailbag inbox. The Falcons informed Bryant last week that he would be released with two years and $7 million remaining on his contract. The veteran turns 44 in May and has made it clear he intends to continue his career. Bryant connected on 20 of 21 field-goal tries in 2018. He missed three games with a hamstring injury. I don't think you can rule anyone out when you consider options for the Bears in the soon to be post-Cody Parkey era. However, it's important to note Bryant hasn't handled kickoff duties since 2008 when he was with the Buccaneers. Unless the Bears plan to find a punter who can do double duty or Bryant can handle kickoffs once again, he's probably not in play for them. Bryant hasn't kicked for a team that plays in a cold-weather outdoor stadium since he began his career with the Giants in 2002-03. While he remains reliable on field goals, my guess is the Bears' first choice would be someone younger than Bryant with experience handling kickoffs. The more options the Bears have to sort through, the better.
Could Bucs punter Bryan Anger handle kickoffs? Will he make the team? Anger wasn't special last year.
Can Bryant kick off and actually put the ball in the end zone?
Man, it would be a such a post-Chucky Buccaneers move to sign ancient Bryant and be looking for a kicker again in 2020.