Kwon Says He's In Talks With Bucs But "We're Just Going To See What Happens In Free Agency"
February 25th, 2019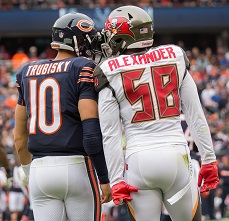 Kwon Alexander sounded more like a businessman and less like a Buccaneer during his recent chat with Alex Marvez and former NFL guard Alex Boone on SiriusXM NFL Radio.
Joe's got the highlights:
We all know Kwon's story. He has missed 14 games over the past two seasons because of injuries, the last being a torn ACL that was surgically repaired in November. The timing was terrible as Kwon was in a contract year and could be a free agent in two weeks.
Kwon's daily rehab routine is all about living the Bucs life. He's in Tampa and working regularly at One Buc Palace, he said. And there he's had a couple of brief chats with new head coach Bucco Bruce Arians.
But Kwon was cornered by Boone about his Bucs future, and it seems very clear that the 24-year-old former Pro Bowler is prepared to move on.
"It's just up in the air. My agent Drew Rosenhaus is working on everything," Kwon said. "We're in talks with [the Bucs]. They're talking right now. We're just going to see what happens in free agency."
It sure sounds like the Bucs are prepared to let Kwon test the market — and that Kwon is prepared to go shopping for a team. The negotiation window, aka legal tampering, for teams to work on signing other team's free agents opens March 11.
So what is the market for an injured middle linebacker, the heart and soul of one of the worst NFL defenses the past two seasons, who might not be ready on opening day? Perhaps everyone involved wants to find out.