Jaws Chomps Down On DeSean Jackson
February 4th, 2019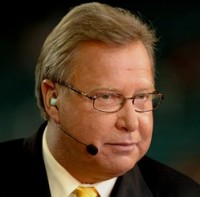 Former 17-year NFL quarterback Ron "Jaws" Jaworski may have gotten the boot from ESPN a couple of years ago, but he's still dialed in to the NFL, especially his old friends like Bucco Bruce Arians and DeSean Jackson.
It turns out Jaworski was the Chiefs' backup QB in 1989 when Arians was there coaching running backs. Per Jaworski, that's where the pair built on a friendship that started years earlier when he was the Eagles' starting QB and Arians was head coach at Temple University.
Jaworski told WDAE-AM 620 last week that his old pal is perfect for the modern game despite his 66 years on the planet. (Jaws is one year older.)
"I think today's game is not always about the Xs and Os; I think it's about the players relating to the coach and the players playing for each other and playing for the coach," Jaworski said. "And I think you will see a discernible difference in the way Bruce coaches as opposed to the way other coaches in the past in Tampa Bay have coached."
Asked about malcontent Jackson, Jaws got animated in a hurry.
"I think DeSean Jackson ought to just shut up and play," Jaworskie said. "I'm being honest. I like DeSean Jackson and I know him, but that's not his place.

"You know, one week he wants to go back to Philadelphia, the next he wants to go to the Rams. I mean, c'mon. Who's paying you right now? That should be your only concern. DeSean Jackson should worry about his job, not anyplace else he's going to play. Focus on his team, his quarterback, his responsibilities to the team, the organization and the city and just focus on that. He's all over the board and I think he's dead wrong."
Joe agrees with Jaworski on all fronts here, Arians and Jackson.
A warm and fuzzy nugget in the interview was Jaworski talking about his years calling Buccaneers' preseason games and how much he got to understand Tampa Bay fans and their passion.