Jameis Winston Says Byron Leftwich Being African-American Will Help Him
February 2nd, 2019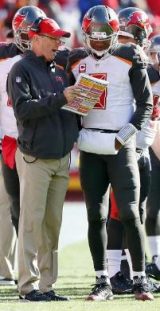 Simply stated, we all know the head of America's Quarterback, Jameis Winston, was all screwed up last year.
It started with his misrepresentations to fans and the Bucs about what happened during Jameis' very costly March 2016 Uber ride — and whatever was concocted that led to Ronald Darby's statement about that night that was later deemed BS.
Then, despite being a veteran QB and a former Pro Bowler, Jameis admitted he was trying to fill someone else's shoes and/or play someone else's game (Ryan Fitzpatrick) upon return from his three-game suspension.
New head coach Bucco Bruce Arians is tasked with fixing Jameis' mental makeup, and it appears, per Jameis, that Arians took a strong step in hiring Byron Leftwich as offensive coordinator.
On Friday, Jameis told SiriusXM NFL Radio that Leftwich's NFL playing experience and skin color are a winning combination.
"I talked to Byron. It's good. I think it's going to be very crucial to have somebody that's not only credible but relatable," Jameis said. "Having a quarterback that's been in this league, that's played in this league, that know how things, it's just going to be a different level of communication, especially him being an African-American quarterback being able to relate to me a little bit more."
Co-host and former QB Brady Quinn seemed perplexed by Jameis' answer and asked Jameis to explain.
Quinn noted he was a player alongside Russell Wilson and Geno Smith, both black quarterbacks, and didn't understand what Jameis was referring to. He said he was told (apparently by Seahawks management] that Tarvaris Jackson would better be able to relate to Wilson and so that was a reason he was named Wilson's 2013 backup and Quinn was released.
"I don't think it's different because we still playing the quarterback position," Jameis said of having a playcaller/coach with the same skin color. "I believe perceptionally it's a lot different. You know, we like to have people who's relatable to us. Especially the quarterback position, you know, is predominantly white. Just to have someone that you can talk to. Somebody that's really played the game, you know, played the game under the same circumstances that you've played the game. Just to have a good communication with him."
Frankly, Joe doesn't know where to go with this. But it very interesting and intriguing.
Most important, if Jameis believes Leftwich being a fellow African-American ultimately will help him play better, then great. Perception often is reality. Bonus points for Arians.
Joe thinks it's worth noting that years ago Joe was told Dirk Koetter offered ex-Jags Pro Bowl quarterback David Garrard a QB-coaching gig in Tampa but Garrard turned him down because he wanted to stay retired. Did Koetter himself think Jameis would benefit from having an African-American voice in his ear?