The Big Tease
February 11th, 2019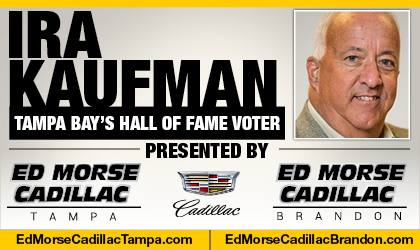 BY IRA KAUFMAN
He's not bad, and that's part of the dilemma.
The Bucs don't quite know what to do with Donovan Smith, who ranks somewhere near the middle of the pack among NFL left tackles.
Smith, 25, aces the board in terms of durability. He hasn't missed a start through four NFL seasons, since the Bucs selected him out of Penn State with the 34th overall pick in 2015 to protect Jameis Winston's blind side.
And now, with unrestricted free agency looming for Smith, Bruce Arians and Jason Licht must decide whether this guy's a keeper.
Durability is important, but if it's a player's No. 1 attribute, that's a problem.
Nobody questions Smith's toughness and pride. When he suffered a knee sprain in practice last August, Smith was expected to miss 2-4 weeks. It was uncertain whether he would be ready for the season opener in New Orleans. He was, and he played well as Tampa Bay won in a shocking shootout.
Availability is not the question when it comes to Donovan Cole Smith. He's going to line up every week and give you what he's got, but is that good enough?
After four years, the Bucs still don't know the answer. There are times in pass protection when Smith looks like a Pro Bowler. There are other times when he looks like he's going through the motions.
Consistency is not a strong point, and that simply won't do for this new coaching staff.
When run-game coordinator Harold Goodwin drills down on Smith's tape, he's not going to like what he sees in terms of physicality. Run-blocking has been a challenge for Smith and he's been part of the problem for a ground game that went nowhere during Dirk Koetter's 3-year tenure.
The real question remains: can the Bucs do better?
Draft Answers
Probably not in free agency. Teams aren't in a hurry to let quality left tackles test the market — where all it takes is one suitor with deep pockets.
One way or another, Smith is going to get PAID in 2019. He's probably looking for roughly a 5-year, $65 million deal, and if the Bucs feel that price is too high, Smith will find a new landing spot.
With the No. 5 pick in the draft, the Bucs could decide to move on from Smith and choose a younger, cheaper replacement. ESPN draft pundits Todd McShay and Mel Kiper Jr. each have the Bucs grabbing Alabama left tackle Jonah Williams in Round 1. WalterFootball, a respected draft site, predicts the Bucs will take Florida offensive tackle Jawaan Taylor, who projects more as a replacement for Demar Dotson on the right side.
Deciding Smith's fate is a huge priority for this franchise. He could be a free man in four weeks. They could decide to pay Smith and upgrade elsewhere up front, especially at right guard, or the Bucs could begin their offensive line overhaul by letting Smith test the market place.
Yes, he's durable, but after 64 starts, Smith still remains a below-average run blocker. It's difficult to build an elite line with an average left tackle, so Smith will have to elevate his game no matter what franchise he's representing next fall.
The verdict on Smith will go a long way in shaping Tampa Bay's draft board. If Smith stays, the Bucs won't feel nearly as much pressure to select a tackle in the first round. If Smith departs, Jonah Williams will cast a massive shadow on Tampa Bay's selection process.
Entering his fifth pro season, Donovan Smith remains a 6-foot-6, 340-pound tease of a football player.
Durability? Check.
Performance? Checkered.
Ira Kaufman began covering the NFL as a New York Giants beat writer in 1979. He arrived on the Buccaneers beat in 1985. The corporate leash was removed from his neck when he joined JoeBucsFan.com in July 2016. The award-winning Ira Kaufman Podcast fires twice per week, and Ira's columns appear thrice weekly, except when Ira is on special assignment. Tampa Bay's only Hall of Fame voter also is a popular guest on various national radio and on local TV.