"If I Would Have Had To Coach A Coaching Staff, No, I Probably Wouldn't Have Gotten Back In."
February 28th, 2019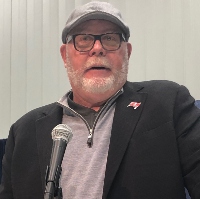 Joe has a lot of confidence in new head coach Bucco Bruce Arians, but Joe is starting to wonder where Arians' focus will be.
Arians will not call plays for the first time in his career and he has said offensive coordinator Byron Leftwich and QB coach Clyde Christensen are two of the best quarterback coaches in the NFL, so he won't have to get be all over America's Quarterback, Jameis Winston.
Also, Arians hired Todd Bowles to run his defense. A measured speaker who doesn't blow a lot of smoke, Bowles calmly said a big reason he took the job was because Arians told him "I can run whatever I want to run."
Today on SiriusXM NFL Radio, Arians said of his confidence in Bowles and the defensive staff, "To have somebody [like Todd,] I probably don't even have to go in that room."
He also made it clear that not coach shopping and teaching his system to new guys was very critical to his return. "If I would have had to coach a coaching staff, no, I probably wouldn't have gotten back in coaching," he told co-host Alex Marvez.
Look, Joe's not saying Arians is coming to Tampa to coast, but the guy is clearly going to have a lot more time on his hands than he did in Arizona. There he was calling plays, dealing with a coordinator change when Bowles left, and was managing his own health conditions.
Joe hopes Arians' extreme confidence in his staff will mean he'll ramp up his involvement on the personnel side of the business and focus on being the kind of CEO-style leader the Bucs haven't had since Father Dungy roamed the sidelines.