Father Dungy Compares Jameis Winston To Peyton Manning
February 23rd, 2019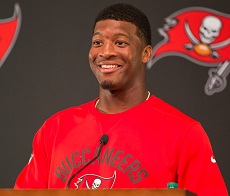 A sage NFL voice thinks Peyton Manning when he sees the Buccaneers' starting quarterback who is entering his fifth season — with a new and experienced head coach.
Interesting interview below from the folks at WTSP-TV, Channel 10, and Father Dungy.
Yes, Dungy looks at Jameis Winston and says he remembers arriving to coach the Colts after Manning had "four up and down seasons before I got there."
Father Dungy said Manning felt he had to make too many plays to carry the team and that had to be coached out of him. It took time, Dungy said, as he went on to note Jameis is a great talent that will flourish when he realizes taking care of the ball is important. Bucco Bruce Arians will coach him well on that, Dungy said.
Dungy likes the accountability attributes he says Arians will bring to the Buccaneers, as well as the new head coach's blend of old school and new school ways.
Is Jameis the next Peyton Manning when it comes to fifth-year quarterbacks? Joe certainly can't go there. But Jameis does have a lot of room to improve and a strong talent base to build upon.