Dirk Koetter Implies Communication With Jameis Was Lacking
February 21st, 2019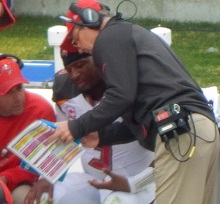 America's Quarterback, Jameis Winston, is no Matt Ryan. And perhaps former Bucs head coach Dirk Koetter needed Jameis to be more like the former NFL MVP and four-time Pro Bowler.
Koetter met with Atlanta media for the first time yesterday since he was re-hired as Falcons offensive coordinator.
They went easy on him. Nobody asked about the Bucs and why he failed as head coach.
There was plenty of chatter about Ryan, though, and Koetter dropped this take that sure seemed like a minor knock on Jameis after spending four years coaching him.
"One of the things I like best about Matt is every quarterback I've ever worked with, they can all tell you what they like. What Matt can do, he did it when I was here the first time, he can tell you what he doesn't like and why," Koetter said. "And just one of the things I've learned over the years is I might think something is the greatest idea ever known to man. If the quarterback doesn't like it, it's probably not going to go on Sundays. So I think Matt will always have a huge impact on what our final game plan is when we get to that point in the season."
Of course, this goes both ways. If Koetter wasn't getting Jameis to explain what he doesn't like and why, then shame on Koetter and his staff. That's their job to find out. And if Jameis couldn't communicate what he didn't like effectively, then shame on him.
New Bucs head coach Bucco Bruce Arians said recently (and Joe will write more about it another day) that if his QB doesn't like a play late in a week of pregame preparation, then it is removed from the play sheet immediately and without hesitation.
Hopefully, Jameis will communicate freely and clearly with Arians on plays he dislikes. And perhaps Koetter's words might serve as a heads-up to Arians to push Jameis extra hard to reveal all his opinions.