The Great Bucs Business Of Losing
February 7th, 2019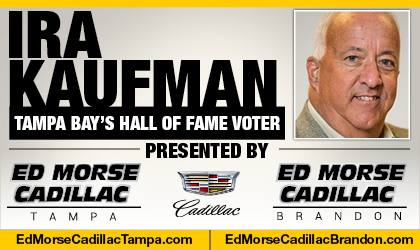 BY IRA KAUFMAN
If you open a pizza joint and decide to skimp on the cheese, you're probably toast within a year.
If you sell overpriced tires that don't perform, you'll end up with a dead-end business.
If your supermarket shelves are constantly out of stock and you're burdened by poor customer service, shopping carts will roll elsewhere.
Not so in the National Football League, where success on the field is hardly the critical factor in a club's bottom line. Whether you are holding up the Vince Lombardi Trophy or you're in the midst of an 11-year playoff drought like the Bucs, you can't lose money in this venture.
In fact, the cash keeps rolling in before the first stadium gate is opened.
NFL teams protect their tax returns like Bill Belichick protects his game plans, but once in awhile a crack appears and daylight floods in. In an illuminating report, the Kansas City Star got a peak behind the curtain through diligent reporting, reinforcing the view that money from attendance, parking and concessions is dwarfed by other revenue streams.
"Team financial records rarely become public," Stanford economics professor Roger G. Noll told the newspaper.
The Star found that less than 2 percent of Kansas City's revenues came from parking. In contrast, the Chiefs receive more than $100 million annually from their slice of the TV pie and another $100 million combined from NFL Ventures, the league's marketing arm, and NFL Enterprises – revenues from NFL Network and NFL Sunday Ticket.
Unlike baseball, where there is no salary cap and teams are free to work out their own TV deals, the NFL limits expenditures on players and shares TV money.
Commitment Issues
That's why hedge fund manager David Tepper was thrilled to fork over a league-record $2.3 billion last May to purchase the Carolina Panthers, who play in the nation's 23rd-largest TV market.
When you have guaranteed revenue streams of this magnitude flowing in every year, incentive becomes a legitimate concern. Plenty of Buc fans wonder whether the Glazers would be more committed to winning if their bottom line was directly linked to the standings.
Noll shares those concerns.
"This result reveals the most important structural weakness of the NFL," said Noll, who reviewed the Chiefs' tax returns at The Star's request. "Poor performance is not punished financially due to the facts that almost all revenue is shared and the biggest cost item (player salaries) is capped."
Media pundits are always seeking to pounce on a perceived trend.
It has become fashionable to suggest the NFL is in financial peril, pointing to some declines in ratings and fan attendance.
Nonsense.
In 2017, 37 of the top 50 broadcasts on U.S. television were NFL games. And the rise of legal sports betting will only increase all those eyeballs.
This league is already a $14 billion business and suddenly Roger Goodell's goal of $25 billion in league revenues by 2027 doesn't seem so outlandish.
This commissioner has been very good for business — that's why he is still the commissioner.
Goodell has also been good for the Glazers, who paid a then-record $192 million for the Bucs in 1995. Forbes estimates this franchise is currently worth $2 billion, with $88 million in operating income by the end of the 2017 season.
Based on their football foibles, the Bucs should be reeling financially. But that's not the way it works in the NFL, where TV primes the pump and tepid fan interest is considered collateral damage.
Ira Kaufman began covering the NFL as a New York Giants beat writer in 1979. He arrived on the Buccaneers beat in 1985. The corporate leash was removed from his neck when he joined JoeBucsFan.com in July 2016. The award-winning Ira Kaufman Podcast fires twice per week, and Ira's columns appear thrice weekly, except when Ira is on special assignment. Tampa Bay's only Hall of Fame voter also is a popular guest on various national radio and on local TV.