"Like Turning Around An Ocean Liner"
February 25th, 2019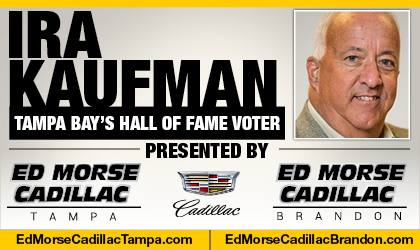 BY IRA KAUFMAN
The Bucs have spent the past dozen years looking for the right dance partner. It's high time we end this waltz into obscurity.
Coaches come and go at One Buc Place with alarming regularity. Some last two years, some get a third season, but in the end, they are all gone with the wind.
Now Bruce Arians gets his turn in the Tampa Bay vortex, vowing not merely to survive but to flourish. Others set the same goal, only to be jettisoned before the ink had dried on their contracts.
Arians is the organization's sixth head coach since the 2008 season, Jon Gruden's final year in Tampa. This franchise hasn't been the same since the December debacle that cost Gruden his job and ushered in a youth movement.
If this Arians hire doesn't work out, it should send a strong signal to ownership that the Glazers need to change the way they do business. Why should anyone "trust the process" when the process itself has been an abject failure?
Beyond an attempt to elevate Jameis Winston's game, the selection of Arians should be viewed as a final referendum on the method the Bucs use to select head coaches.
Raheem Morris, Greg Schiano, Lovie Smith and Dirk Koetter weren't deemed to be the answers, begging the question: why can't the Glazers get this right?
"Stability is as important today as it ever was and you want stability," Joel Glazer told me once upon a time. "It's the ultimate recipe for success, but you can't be stubborn in your ways. You have to look everything over and make decisions. And if you feel something is not working, you feel compelled on behalf of your fans to do what you think is right."
Patience hasn't exactly been a virtue around these parts when it comes to sticking with the man at the tip of the franchise spear.
Sean Payton survived three consecutive 7-9 seasons in New Orleans, and those flops came on top of a one-year suspension for his role in Bountygate.
The Panthers stuck with Ron Rivera through a 13-19 start. New owner David Tepper has decided to retain Rivera, despite his 24-24 record in the past three seasons.
"There is generally a correlation between winning and stability," says Glazer. "You want them both and we strive for that."
I recently spoke to a former Bucs executive who lauded the selection of Arians. But in the next breath he said the main problem in Tampa is that "the owners don't know what they're doing."
If Arians ends this woeful playoff drought, all will be forgiven by Buc Nation. He will get to pick his successor and this story has a chance to have a happy ending — and I don't mean in the Robert Kraft sense of the term.
But if the Bucs continue to dwell in the NFC South basement, that should be the end of business as usual. That should be the start of choosing an astute GM, who will then in turn choose an astute head coach.
End of story.
"The key to any sports team we believe is stability, especially in the NFL," Glazer says. "When you make changes, it's like turning around an ocean liner."
Ship ahoy!
Ira Kaufman began covering the NFL as a New York Giants beat writer in 1979. He arrived on the Buccaneers beat in 1985. The corporate leash was removed from his neck when he joined JoeBucsFan.com in July 2016. The award-winning Ira Kaufman Podcast fires twice per week, and Ira's columns appear thrice weekly, except when Ira is on special assignment. Tampa Bay's only Hall of Fame voter also is a popular guest on various national radio and on local TV.