Super Vision
February 4th, 2019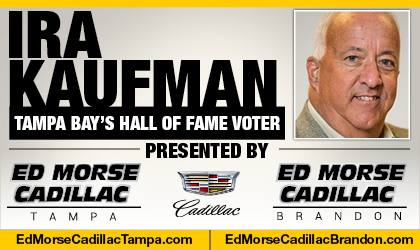 BY IRA KAUFMAN
It might be foolish to argue with a Hall of Fame coach, but here goes.
After earning his sixth Super Bowl ring, Bill Belichick kept talking about his players. He mentioned New England's coaching staff, but he kept coming back to the players who implemented the schemes in a surprising defensive struggle against the Rams.
Coaches coach and players play … can't argue that fact. But from my standpoint, the players didn't win that game.
It was The Patriot Way.
Talent didn't beat the Rams on Sunday night. If you matched the talent across the board, Los Angeles wins that game by two touchdowns.
And talent alone won't determine the fortunes of the 2019 Buccaneers, who will be trying to end an 11-year playoff drought.
Bruce Arians says the Bucs have plenty of talent, and he's got a point. What they haven't had is a coaching staff that maximizes the available talent with a flexible game plan geared to a specific opponent.
"Bill did a great job," said Sean McVay after the Patriots shut downanother high-powered attack. "There is really no other way to put it. The Patriots coaches did an outstanding job putting their guys in positions and then the players did a great job executing.

"They definitely changed it up with what they had done over the past couple of weeks, especially when you look at some of the things that enabled them to have success against the Chargers and Chiefs. Their coverage principles were definitely mixed compared to what they put on tape."
When's the last time you heard a Buc opponent praise Tampa Bay coaches for the element of surprise?
The Patriot Way is more than a corny slogan.
The Tampa Bay Overhaul
It starts with leadership from the top — Bob Kraft, Belichick and Tom Brady. The Pats have established a culture that demands excellence. Practices are hard, expectations are high and failure is simply not an option.
We will look back at the 2018 season and wonder how in the world did the Patriots pull this off. Brady is Brady, but Gronkowski is no longer dominant and you can't name an offensive lineman on New England.
Julian Edelman is a crafty son of a gun, but the Pats didn't have a credible deep threat. Other than Stephen Gilmore, you couldn't pick this defense out of a lineup.
Yet they're champions.
Tampa Bay's roster is about to be overhauled and let's hope Arians shares Belichick's vision for new recruits.
"For me, tough, smart, dependable,'' Belichick said of his evaluation board. "That's where I would start. Tough — mentally and physically. Smart — good decisions, good football understanding, high football IQ. Dependable — critical situations, you can count on those players to perform under pressure."
The Bucs don't have enough of those guys and they haven't done nearly a good enough job of turning young players into trustworthy players.
Lost in the adulation about Brady and Edelman is the dominance of New England's ground game during the postseason. That is a reflection of will and physicality, not overwhelming talent.
The Pats averaged 162 rushing yards against the Chargers, Chiefs and Rams, compared to 41 rushing yards for opponents. That's why the Brady Bunch maintained possession for 38:30 and owned a 240-170 advantage in snaps during a stunning Super Bowl run.
Are You Listening, Jason Licht?
Arians is a two-time Coach of the Year, but he's no miracle worker.
Nobody else has managed to duplicate The Patriot Way, but Buc fans will be thrilled with a reasonable facsimile.
When asked about players, Belichick mentions a lot of attributes. He rarely talks about talent.
"The tougher the game, the more critical the game, the more important the situation, the more I want the tough, smart, dependable player in the game, in the eye of the storm, making a decision that needs to be made for us to win,'' he said.
Are you listening Jason Licht? Talent's nice, but it's not enough.
Not nearly enough.
Ira Kaufman began covering the NFL as a New York Giants beat writer in 1979. He arrived on the Buccaneers beat in 1985. The corporate leash was removed from his neck when he joined JoeBucsFan.com in July 2016. The award-winning Ira Kaufman Podcast fires twice per week, and Ira's columns appear thrice weekly, except when Ira is on special assignment. Tampa Bay's only Hall of Fame voter also is a popular guest on various national radio and on local TV.