Arians Says He's "Very Proud" Of His Postgame Booze Culture
February 23rd, 2019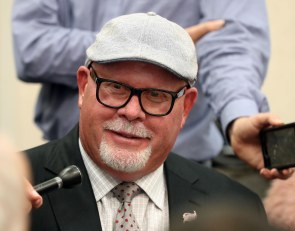 Joe has had a lot of fun learning about new head coach Bucco Bruce Arians.
He's a colorful character with little desire to be politically correct, at least compared to other NFL coaches.
While studying Arians, Joe has heard members of the Arizona media refer to the "booze culture" Arians led with the Cardinals. Alcohol was simply part of the Arians regime.
Consider what new Browns head coach Freddie Kitchens said last year when he was promoted to Cleveland offensive coordinator in midseason. Kitchens was asked what he learned most from working with Arians.
"How to make a cocktail?," Kitchens replied in jest.
Chatting earlier this month with one of his former Colts players, Pro Bowl punter Pat McAfee, Arians was asked whether he is proud or embarrassed by his reputation for drinking with players and their families after games as part of an Arians sponsored tailgate.
"Very proud," Arians said. "Very proud. Every team I've ever coached, they knew where to come find a cocktail, players, coaches, family, everybody."
McAfee noted the postgame party atmosphere was usually "electric" and a good bonding experience.
Joe has a good idea of where Arians will set up shop outside the Den of Depression. Joe just hopes this Arians tradition isn't awkward for America's Quarterback, Jameis Winston, who told the world in June "I have eliminated alcohol from my life."