Another Free Agency Fail For Jason Licht
February 13th, 2019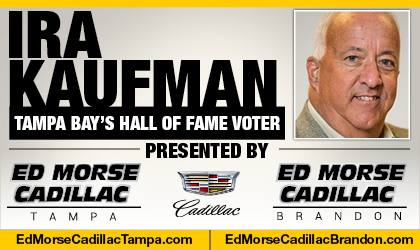 BY IRA KAUFMAN
Let's think about what just happened here.
The Bucs struck out in free agency. Yeah, again.
The release of Vinny Curry after only one season is a public acknowledgment that Tampa Bay didn't do its proper homework last March.
Jason Licht pounced on Curry the day after he was released by the Super Bowl champion Eagles, handing him a base salary of $3 million and a $3.5 million roster bonus.
That's a lot of cabbage for a guy who had posted only one season with more than four sacks.
Licht believed Curry's championship pedigree would rub off on some younger players, but now Curry is free to deliver all that leadership for another franchise. Curry battled through some injuries and was outplayed by Carl Nassib, younger and cheaper.
So now Curry joins a long list of free-agent gaffes that has haunted the Bucs throughout this brutal 11-year playoff drought.
Curry was supposed to be a key contributor in an offseason haul up front, joining Jason Pierre-Paul, Beau Allen, Mitch Unrein and Vita Vea.
Now Curry is toast, and he won't be the last to depart from that group.
Buc fans should never forget that teams active in free agency are usually trying to make up for mistakes in the draft.
If Noah Spence had lived up to expectations, the Bucs wouldn't have overpaid Curry. If Vernon Hargreaves had established himself as a dependable pro, Licht wouldn't have drafted two cornerbacks in the second round.
Only one word matters when it comes to free agency — value.
Just ask Hall of Fame executive Bill Polian.
"You had better do your homework well in advance of this and you better continue to do your homework throughout this whole process," Polian says. "What this is about is getting maximum value for your money. It's not fantasy football."
When the Bucs turn in their homework for free agency, there are pages missing. At least Curry wasn't a locker room poison like some past signings Tampa Bay fans know about all too well.
The Bucs won't have as much cap space as they are accustomed to heading into 2019 free agency, and that's a good thing. It's more important than ever to find value in the marketplace, more important than ever to base your decisions on solid research.
"Free agency is dangerous," says Bears GM Ryan Pace, who has built a dangerous young club on the shores of Lake Michigan. "You're stepping through land mines, and you've got to be careful you don't step on one. A lot of times these guys are available for a reason. You have to sort through that."
Sorting through all that takes times and dedication. Money is a big factor and the Bucs no longer have the luxury of a starting quarterback on a cheap rookie contract.
Jameis Winston is going to be paid this fall and the ramifications should be profound. There's less margin for error moving forward around One Buc Place, less room for misjudging talent.
"In free agency, you pay A money for B players," Polian says. The Bucs have proven Polian right in that regard with a slew of poor decisions when March rolls around.

"You can always recover from the player you didn't sign," says Pace. "You can't recover from the player you signed at the wrong price."
Sounds like a sign that should be hanging in Licht's office.
Ira Kaufman began covering the NFL as a New York Giants beat writer in 1979. He arrived on the Buccaneers beat in 1985. The corporate leash was removed from his neck when he joined JoeBucsFan.com in July 2016. The award-winning Ira Kaufman Podcast fires twice per week, and Ira's columns appear thrice weekly, except when Ira is on special assignment. Tampa Bay's only Hall of Fame voter also is a popular guest on various national radio and on local TV.