A Fourth Chance At C.J. Anderson?
February 2nd, 2019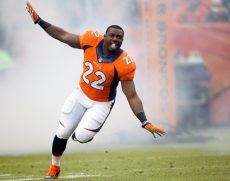 Serious NFL fans hear the one-liner every damn year. "Guys like that aren't walking around on the street."
Of course they are — and it really doesn't matter the position. You just the need the right general manager and coaching staff to find them, evaluate them, and adjust to them.
This brings Joe to Rams running back C.J. Anderson.
For some reason, it appears Tampa Bay was among the teams that had no interest in Anderson during free agency last year and then again after he was cut by Carolina late this season. Back in April and coming off a 1,000-yard season, the Broncos released Anderson as a salary cap move and a few weeks later he went to the Panthers on a one-year, $1.7 million contract, plus incentives.
But Anderson barely played for the Panthers and was cut in November. Per Anderson, he had multiple teams interested but went to the Raiders because he always wanted to play for Chucky, whose energy and style he loved.
Well, Chucky cut him in a hurry and Anderson turned into an absolute instant star for the Rams. He churned out 422 yards rushing and four touchdowns on 66 carries in his first three games, including one in the playoffs.
Joe begged for the Bucs to sign Anderson last April and to draft a running back. They settled on Ronald Jones, Shaun Wilson and rolling over about $5 million on unused salary cap dollars.
So what about another crack at undrafted Anderson, who turns 28 next week with low mileage on his tires? He's also got a Super Bowl ring and a Pro Bowl appearance. And he's an elite-level community guy who has proven his passion for the game on multiple fronts.
Maybe, just maybe, the poor running back evaluators at One Buc Palace have studied why they thought Anderson couldn't help the Bucs. Or maybe they're willing to go there in secret conference room near Team Glazer's cone of silence.
Forget whatever Anderson might do in tomorrow's Super Bowl, Joe would love to see Anderson on the Tampa Bay depth chart when he likely hits free agency next month.