8 Takeaways From Today's Arians-Licht Chatter
February 27th, 2019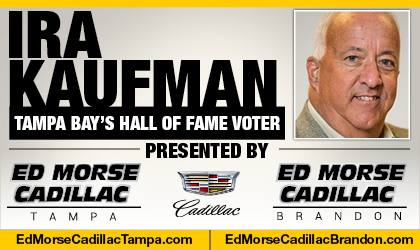 BY IRA KAUFMAN
Most of the chatter at the NFL combine can be characterized as mushy pablum, vague answers by coaches and GMs who talk a lot and say very little.
But every once in awhile, something telling slips out, a phrase that reveals what's really going on within an organization.
In this instance, it was Bruce Arians who authored a remark Wednesday that speaks volumes about what a newcomer thinks of the roster he has inherited at One Buc Place.
Arians didn't talk up Tampa Bay's offensive line or heap praise on a young secondary. He didn't laud the leadership of Kwon Alexander or marvel at the kicking leg of Cairo Santos. What he said was that he "loved" the skill players Jason Licht has assembled during a 5-year tenure.
Arians was referring to a wide receiver corps led by Mike Evans, a tight end group headed by O.J. Howard and Cameron Brate and a quarterback by the name of Jameis Winston who stands at a career crossroads.
In essence, Arians confirmed the drumbeat you have read in this space and heard on our weekly podcasts … the Bucs are top heavy in terms of talent. They've got all kinds of targets, yet they have failed to target enough help where games are ultimately decided — in the trenches.
That's why any suggestion that Antonio Brown makes sense for the Bucs is misguided. Why yield compensation to the Steelers and write a huge check for a guy who doesn't address any of your major weaknesses?
Arians keeps talking up Tampa Bay's skill players, but this franchise just went 10-22 in the past two seasons, despite all those weapons.
We just saw the Patriots give a postseason clinic on line play. They hounded Philip Rivers, Patrick Mahomes and Jared Goff. They ran the ball with ruthless precision and protected Tom Brady very well against some of the league's premier pass rushers.
Resurrecting a ground game that has been listless for three years is a priority for this new regime and let's not forget that the Bucs are 0-11 in the past four seasons when attempting 20 runs or fewer. They are 8-24 in that same span when rushing for less than 100 yards.
Need we say more?
After listening closely to the words of Arians and Licht in Indianapolis, here are some other takeaways to ponder:
* Caleb Benenoch was playing out of position in 2018. Sadly, it took a full season of watching Benenoch struggle at right guard to realize his future is at tackle — if he indeed has an NFL future.
* As expected, Ryan Fitzpatrick won't be back. The Bucs are concerned that Winston won't be able to handle the specter of Fitzpatrick as a starter-in-waiting should No. 3 falter next fall.
* Peyton Barber receives high marks from Arians, who believes Barber is a 1,000-yard rusher with better blocking up front. Guess what? He's right.
* Licht said there's a lot of excitement in the building about Vernon Hargreaves, who was described as a "really good nickel" and a "really good press guy." If that's true, let him press Julio Jones and Michael Thomas.
* The Bucs are hoping Noah Spence can thrive as a 3-4 edge rusher.
* I heard nothing to dispute the growing speculation that the Bucs will target safety Tyrann Mathieu in free agency.
* Licht described Arians as a "rock star." OK, let's see if this dynamic front man can fill the building.
Ira Kaufman began covering the NFL as a New York Giants beat writer in 1979. He arrived on the Buccaneers beat in 1985. The corporate leash was removed from his neck when he joined JoeBucsFan.com in July 2016. The award-winning Ira Kaufman Podcast fires twice per week, and Ira's columns appear thrice weekly, except when Ira is on special assignment. Tampa Bay's only Hall of Fame voter also is a popular guest on various national radio and on local TV.