Too Much Bile Under The Bridge
January 31st, 2019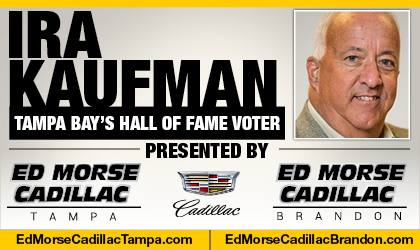 BY IRA KAUFMAN
He's got to go.
DeSean Jackson can still play in this league. In fact, he can still play at a high level at the age of 32.
But he shouldn't be on this roster when the Bucs break camp in preparation for the 2019 season. He needs to go, and it won't take long before Bruce Arians realizes Jackson is not a good fit for his football team.
There's too much bile under the bridge for Jackson to return for the third and final season of his Buc contract. Send him off on his way and wish him godspeed, but don't make the mistake of thinking this new coaching staff can repair the fractured relationship between Jackson and Jameis Winston.
Jackson may be changing agents, but he can't change the fact he and Winston have built no rapport through two seasons.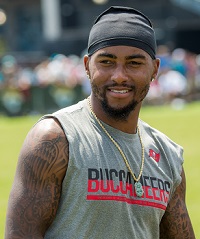 Not on the same page? Heck, they're not even on the same playbook.
There's plenty of blame to go around in this mess.
Winston has found chemistry with Mike Evans, Chris Godwin, Adam Humphries, Cameron Brate and O.J. Howard, but he simply cannot connect consistently with one of the premier deep threats of the modern era.
Some Winston supporters say Jackson does not give his all when No. 3 is under center, suggesting he plays harder and fights more for the football when Ryan Fitzpatrick is in the game.
What can't be disputed is the fact Jackson was an unhappy camper in 2018. That negative vibe was felt throughout the locker room and the Bucs can't afford to chance that happening again.
A True Patriot
Tampa Bay should re-sign Humphries and move on without Jackson, who is already angling to attract a new suitor.
This guy can still be a force.
His average of 18.9 yards per reception was best in the NFL for anyone with more than 27 catches. Only six players, including Mike Evans, topped Jackson's total of five catches for 40 yards or more.
Thirty-one of his 41 receptions went for first downs.
Yes, he remains one of the league's fastest players, a legitimate field stretcher who wouldn't look bad in a New England uniform, catching bombs and slants from Tom Brady next fall.
But the Patriots have the kind of mature locker room that can handle a DeSean Jackson. The Bucs don't.
Arians will do everything in his power to ensure Winston takes the next step forward in his development. The Bucs will upgrade the offensive line in free agency and the draft in hopes of giving Winston a complementary ground game.
Jackson has had his chance. Now, it's time to say goodbye.
Besides, he doesn't want to be here — even if he won't say the words publicly. If the Bucs keep Jackson, Winston will feel a need to keep him satisfied. He'll feel pressure to force balls to No.11, and that's a disaster for all concerned.
If Arians is determined to change the culture at One Buc Place, he should start with DeSean Jackson. Give him his freedom and don't look back.
And if Jackson is hugging Brady after next year's Super Bowl, so be it. This is all about putting Winston in the best position to flourish. If that happens, the Bucs will have a successful season.
Good luck, DeSean.
Ira Kaufman began covering the NFL as a New York Giants beat writer in 1979. He arrived on the Buccaneers beat in 1985. The corporate leash was removed from his neck when he joined JoeBucsFan.com in July 2016. The award-winning Ira Kaufman Podcast fires twice per week, and Ira's columns appear every couple of days, except when he's on special assignment. Tampa Bay's only Hall of Fame voter also is a popular guest on various national radio and on local TV.