"The Way He Watches The Film With The Defense"
January 31st, 2019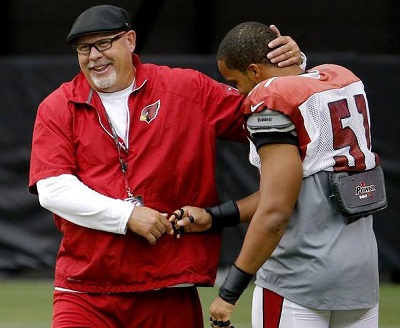 Forget about retired QB Carson Palmer's lofty prediction for the 2019 Buccaneers, Joe is dialed into a different kind of chatter than Palmer cranked out during Super Bowl festivities this week.
Palmer has been making the rounds and that included a stop at The Jim Rome Show.
Rome asked him about the Bucs and his former coach Bucco Bruce Arians. And while Palmer didn't repeat his instant-turnaround prediction to a winning season that he did on NFL Network, he did talk about how Arians is able to command a team in a hurry and bond with young players.
It's all about respect, Palmer said, citing many things including "the way he watches film with the defense."
That really caught Joe's ear, especially on the heels of the Dirk Koetter regime, in which the head coach literally refused to order or veto anything on the defensive side of the ball and was almost completely hands-off.
Arians will lead the entire roster, which is what a head coach is supposed to do. Man, quality head coaching will be a very refreshing change around here.
Joe also found it telling to hear Palmer say he was happy Arians' wife Chris believed he was healthy enough to coach again. Reading between the lines in the interview, you can tell Palmer saw Arians in some rough shape during his years with the Cardinals.