The Apprentice
January 15th, 2019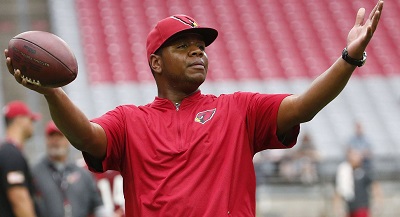 New Buccaneers offensive coordinator Byron Leftwich got his feet wet into playcalling in an atypical manner.
That's his mentor, Bucco Bruce Arians, always crafty when it comes to development on the money side of the football.
When Leftwich was promoted to Cardinals offensive coordinator midway through last season, Katherine Fitzgerald of the Arizona Republic penned a cool feature on Leftwich's ascent from the golf course to the playcaller role in just two years.
He was recruited off the links by Arians to be a coaching intern back in 2016. A year later, his mentor was dropping major tests in his lap.
Under Arians, Leftwich was able to call the plays in two preseason games. Each time, Arians only gave him the heads up the night before, hoping that instincts would take over.

He saw Leftwich's instincts as a player, first "as an adversary," and then on the same sideline, when Arians was an offensive coordinator with the Steelers.

"Gosh, he just had that 'it-factor' as far as a leader," Arians said on Leftwich. "A really, really bright player. Did a great job of learning our offense."
So now Leftwich gets his shot with a veteran-laden offense and a full offseason to acclimate and set the tone.
And like nearly everyone on the Bucs' new staff, he's an Arians loyalist to his core.
"B.A., he's the reason I'm here," Leftwich said. "He gave me the opportunity, and once I saw it, I fell in love with it. He knew the way I cared about football. He knew how much time and energy I put into this thing, so I'm glad he got me into this thing because I love every minute of it right now."