A "Special" Choice, Says Joel Glazer
January 11th, 2019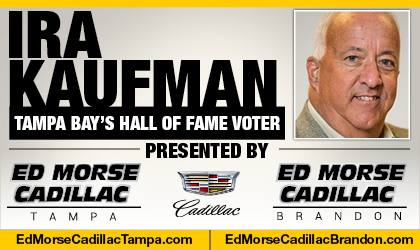 BY IRA KAUFMAN
Well before Joe Maddon's wait staff brought out the pasta, the salad and the booze, Bruce Arians knew this Bucs job was appetizing.
By midseason, he realized his new job in the CBS broadcast booth had only whetted his appetite for the NFL sidelines. And once he cleared his plate with Chris, his vivacious wife of 47 years, only one question remained: where were the moving vans headed?
That dinner at Ava, Maddon's popular bistro in South Tampa, proved to be a pleasant night out in good company, but it was hardly a game-changer. Arians had already decided to take this job and love it, if offered.
In a meeting with Arians the next day, the Glazers were mesmerized.
"I didn't know him, but I had watched Bruce through the years," Joel Glazer told me. "I've admired the man for his entire career. He's a real football coach. His personality is infectious. You can see how Bruce Arians can energize a team.

"Is he confident? Yes. To be in this role, you have to be confident. But he's got a special confidence, a special personality. People describe him in a really unique way, how he relates to them, how he can motivate them."
Consider the Glazers duly motivated.
It turns out that Arians had real competition for the job.
Vikings defensive coordinator George Edwards proved to be a serious candidate after a very impressive interview, only one day before Arians met with ownership.
"George was fantastic," said Jason Licht. "He's extremely bright and very detailed. I couldn't say enough good things about him."
But Edwards lacked head coaching experience at the NFL level and the Glazers kept coming back to the instant turnaround Arians accomplished in 2013, when he inherited a 5-11 Arizona team and immediately won 10 games.
The Cardinals entered the final week of that season with a playoff berth hinging on a victory against the 49ers and a Bucs win in New Orleans. They got neither as Arizona lost 23-20 on a last-second field goal and the Saints crushed Tampa Bay 42-17 in the final game of the forgettable Greg Schiano era.
In a somber Arizona locker room, tackle Eric Winston looked back with pride at the job Arians had turned in as a rookie head coach.
"The one thing that impresses me most is just how much better we are than at the start of the season," Winston said. "People think that's everybody, but it's not. A lot of teams don't get better during the season. This team is probably the most improved in the league."
Our Turn
The Glazers can't help but notice how one or two teams vault from last to first every season and how the playoff field always seems to have at least four or five new members.
Why not here?
"Bruce has vast experience with a great staff that know each other and can hit the ground running," said Joel Glazer. "We've already seen a very positive reaction. Bruce is widely respected throughout football. People admire his work and respect what he's done over the years. For our fans, it's been very positive. It's been exciting. You can feel the energy from our fans."
For Licht, who worked with Arians as a personnel executive that first year in Arizona, it's been a very good January. He kept his GM job and landed his first choice to replace Dirk Koetter.
You have to think Licht picked up that tab at Ava a week ago – a small price to pay for success. As the flatbreads and meatballs filled the table, the Arians charm was on full display.
"You could see the confidence," Licht said. "Justified confidence. And the fact he told us he's 66 and sexy."
---
Subscribe today to the great free weekday newsletter, The Identity Tampa Bay. It's well worth the time. And don't forget to listen to the Ira Kaufman Podcast. The Sage of Tampa Bay sports fires away twice per week.