Play Smarter
January 11th, 2019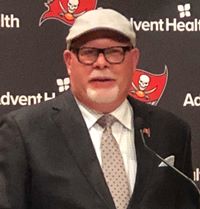 Good interview here with new Bucs coach Bucco Bruce Arians conducted by friend of Joe, Scott Smith of WTVT-TV FOX 13.
Smith talks about all sorts of things with Arians and one subject had Arians describing what it will take for one of the many young NFL coaches hired this week to survive.
Now Arians is already on record as saying he doesn't believe the Bucs are a major rebuild job (in fact, he said he wouldn't take a "build-up" job). Smith asked him what it would take for the Bucs to go from their normal studio rental shanty in Buccaneers Cove (last place in the NFC South) to the playoffs.
In short, Arians said the Bucs need to be smarter.
"Sometimes it is just finishing halves and finishing games," Arians said. "Most games are decided by a touchdown or less. So it is getting smarter in those situations and winning those situtions that put you over the top."
Can Joe say "red zone?" The Bucs under former coach Dirk Koetter moved the ball between the 20s well. But once the Bucs entered missed field goal territory, they would meltdown somewhere along the line, if not with a turnover with penalties.
Sometimes, cutting penalties is just using your head.
To see Smith's full interview with Arians, click below.