"We're Not 3-4; We're Not 4-3 — We're Going To Play Defense"
January 11th, 2019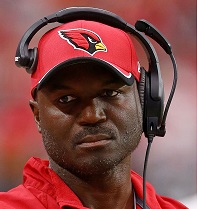 Go inside the Todd Bowles way, the approach of our new defensive coordinator.
Joe talked to general manager Jason Licht about this today following the meet Bucco Bruce Arians news conference at One Buc Palace.
It was Arians' day but Joe asked Licht to open up on what Bowles is like to work with and what he's all about.
"Todd and I have a really good relationship," Licht said. "I spent a year working with him. Yesterday I probably called him 10 times more than I did in that full year that I worked with him. Just wanted to make sure we secured him. He's a completely different personality than Bruce. He's a little bit more subdued, but you don't want to rattle his cage, though.

"He's extremely, extremely bright and the thing as a coach that I love about Todd, just like Bruce said, it's not about the scheme; it's about the players. And he builds the scheme around the players and makes it fun for them on a week-to-week basis on how we can attack [a] particular team."
Not long after that chat, Arians hopped on NFL Network and put his foot down on how his defense will — or will not look.
"What we'll do is we'll evaluate our players and put systems in that match what they can do. We're not 3-4; we're not 4-3. We're going to play defense," Arians said.
Joe can't wait. Opposing quarterbacks completed 72.5 percent of their passes against the Bucs this season. That's not a typo and it's beyond sickening. It ranked worst in the NFL and even worse than the Lovie Smith era.
Arians says "we're going to play defense." Good, Coach, the fans freakin' deserve it.