No Compensatory Draft Picks For Bucs
January 8th, 2019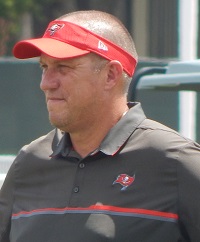 A lot of NFL cities have been buzzing this week with news that their teams will get one of those quality extra draft picks the Bucs never seem to score.
In Tampa, we're celebrating back-to-back 5-11 records and the prospect of a standout new head coach/quarterback whisperer, but no extra picks.
Nick Korte of OverTheCap.com calculates all this stuff so fans can have a heads-up before an official announcement is made.
In simple terms, if you sign more free agents than those you release who get well-paid jobs in a given offseason, then you get no extra picks for losing the free agents. But if you lose bodies in free agency and don't replace them in free agency, you can get extra draft picks.
The elite front offices consistently have compensatory picks each year.
Per the OverTheCap data, the Bucs lost Kevin Pamphile to the Titans last year, and signed several qualifying players. So no soup for Jason Licht. In the NFC South, the Panthers will get an extra third-round pick this year, and the Falcons will receive fourth- and fifth-rounders.