Miracles Can Happen
January 21st, 2019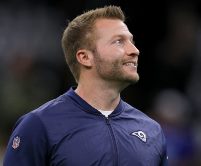 A team, with a little good luck, can go from worst to first in a short time. Just look at the Rams.
Two years ago the Rams were a joke. They held the longest playoff drought in the NFC (just like the Bucs do now) and uprooted and left a city to build a nest halfway across the country in the kale-eating, soyburger-loving, lipstick City of Angeles, Los Angeles.
Now, those same Rams are in the Super Bowl.
Sometimes all it takes is a change of perception. The Rams hired an offensive wizard (just like the Bucs just did) with a solid defensive coordinator (just like the Bucs just did) and nearly overnight turned around a moribund, boring franchise into one of the NFL's best if not most exciting teams.
The Rams beating the Saints in the Superdome (like the Bucs did to begin the season) to win the NFC title and a trip to Atlanta for the Super Bowl gave Bucs fans hope. With the right coaches, a team can rise from the ashes into a squad that is feared.
It can happen, Bucs fans. Hope is alive.