Minor Trade Part Of Arians Deal
January 9th, 2019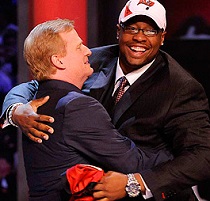 Your Buccaneers have added a seventh-round pick in the 2019 NFL Draft!
On the downside, they have coughed up their sixth-rounder in April.
The deal was a swap with the Arizona Cardinals that was all part of the official release of Bruce Arians' rights from Arizona so he could become Bucs head coach. ESPN reporter Adam Schefter Twittered the news last night.
Arians retired after last season with a year remaining on his contract. NFL Rules say if a retiring coach returns to a new team when he still would have been employed by his former club, then his ex-team can request compensation.
Arizona appears to own the first pick of Round 7 after finishing with the NFL's worst record. So at least it's not a total dog of a pick coming back to the Bucs.