Mike Smith Says Culture Off In Tampa, Dodges Jameis Question
January 30th, 2019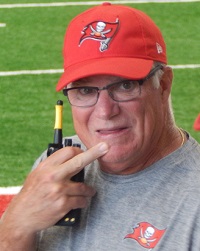 Fired Bucs defensive coordinator Mike Smith is a busy man on Super Bowl's Radio Row this week, grooming his new white beard and selling shoulder pads and his 2015 book  — You Win In The Locker Room First. 
Perhaps that's why he can't seem to find much nice to say about the Bucs.
Two weeks ago, Smith had nothing nice to say about Bucs management, players and ownership when teed up during a national radio interview. And Joe has heard Smith do several radio interviews this week and still he's offering nothing of substance. But Smith was cornered on CBS Sports Radio by host Brandon Tierney yesterday after giving a cliche answer to a question about the Bucs' failures on defense.
Tierney told Smith he couldn't get away with the stock one-liner and pressed him to talk about what's happening in the Tampa Bay organization that leads to steady losing.
"Culture is very, very important and it's such a fine line, guys, to what's the right culture … and what's going to lead to failure," Smith said. "Obviously, the culture has not been what it needs to be to have a sustained winning program in Tampa Bay."
Co-host Tiki Barber then asked Smith, "Do you believe in Jameis and did the team believe in Jameis?"
Smith dodged the question.
"I think Jameis is a very talented player. And as you know, quarterbacks have to be able to distribute the ball and not throw it to the other team," Smith said. "Right, Tiki? That's the big thing; don't throw it to the other team. And when you turn the ball over, usually good things don't happen. The outcome's not going to go your way. And that's one of the things, we didn't take it away enough on defense this season and we also were turning it over. Again, I was just there for the first five games of the season."
Interestingly, Smith seemed most excited in the interview when talking about what a great coach Dirk Koetter is and how his re-marriage with Matt Ryan will be a super fit. There don't seem to be any hard feelings there.
Considering what a great guy so many people say Mike Smith is, Joe remains surprised that Smith continues to pass on every public opportunity to show thanks for his opportunity — and hefty raise — in Tampa, or praise fans, or single out his favorite players.