Jameis 20th Best
January 5th, 2019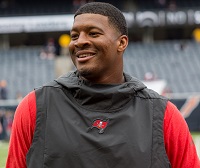 There's a well done weekly ranking of all starting quarterbacks at NFL.com that is informative and a shred entertaining.
It's a pet project of Around The League chief Gregg Rosenthal. Joe enjoys soaking it in regularly but very rarely shares the findings here.
But now that the season is complete, the final rankings are a more interesting look. Wedged behind Mitch Trubisky and just ahead of Marcus Mariota is America's Quarterback, Jameis Winston, ranked at No. 20 overall.
Winston finished in the top 10 in yards per attempt for the third year out of four, ranked eighth in QBR ahead of Jared Goff and 15th in DVOA. Those numbers seem to miss the delay of games taken, the situational struggles in the red zone and the throws that can't be explained postgame by someone who plays with a high football IQ on so many other snaps. Winston started his career as a top-20 QB and hasn't made much progress since then.
2018 stats: 11 games | 64.6 pct | 2,992 pass yds | 7.9 ypa | 19 pass TD | 14 INT | 281 rush yds | 1 rush TD

.
Jameis ranked 17th in the NFL last year, per Rosenthal's assessment. Joe didn't argue with that, and Joe really can't argue with this year's ranking. But in both seasons, Jameis finished much stronger than he started, which just illustrates the inconsistency through his four-year career.
.
It's also why he'll get a fifth season with the Bucs, an absolute rarity among four-year starters out of college who never reached the playoffs. Retired Texans QB David Carr was the last one in that boat.
.
Man, it's hard to win with a garbage defense, an inconsistent quarterback, no running game, and special teams that aren't special. Yet still, many Bucs fans think this team is close.