Don't Make The Leonard Fournette Mistake
January 3rd, 2019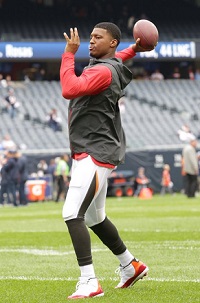 Things will get interesting around One Buc Palace if Ohio State quarterback Dwayne Haskins declares for the NFL Draft, which now seems likely.
Not only would the Bucs be sitting with the No. 5 overall pick, the four teams drafting ahead of them presumably will not select a starting QB (Cardinals, 49ers, Jets, Raiders). There's speculation now that Haskins could become a No. 1 overall pick.
Wherever Haskins could land, his presence in the draft would be good for the Bucs, assuming he's selected before them or the Bucs trade down to a team that wants him.
But what about Tampa Bay drafting Haskins and having him and America's Quarterback, Jameis Winston, on the roster?
Former Bucs GM Mark Dominik said today on WDAE-AM 620 that the Bucs would be "reckless" not to be considering drafting Haskins at No. 5 overall (assuming he comes out) because the team has not committed to Jameis for the long term, and because he could be another Patrick Mahomes or DeShaun Watson.
Dominik was adamant that the Bucs make sure they don't make the Leonard Fournette mistake that he believes Jacksonville did, drafting Fournette No. 4 overall last year because they insisted Blake Bortles was their quarterback at all costs.
"You can't do that. You've got to evaluate these quarterbacks correctly and it shouldn't stop Tampa from taking one if they if they feel like another one can compete or be better [than Jameis]," Dominik said.

"Reckless" is the word Dominik used to describe a potential Bucs mindset that would put full confidence in Jameis and pass on deeply exploring quarterback options in the 2019 draft.
Joe agrees with Dominik's premise, there should be no harm — and a lot of potential good — in drafting a guy you believe can be a franchise quarterback for the next 15 years — if your scouting tells you that he is just that.
However, Joe doesn't think the Fournette/Jacksonville analogy is the best one.
Fournette helped the Jaguars get to within a breath of the Super Bowl last season, and Bortles played very well in the playoffs. The better analogy is Andy Dalton and the Bengals.
Dalton, a three-time Pro Bowler and 29 years old before last year's draft, had six seasons under his belt and the Bengals already knew he was good but not great.
With the No. 9 overall pick, the Bengals drafted wide receiver John Ross and Mahomes went at No. 10 to Kansas City while Watson was taken at No. 12 by Houston.
Joe is all in favor of the Bucs doing their complete homework on quarterbacks in this draft.