"I Don't Care How Old He Is, He Relates To Young Players."
January 8th, 2019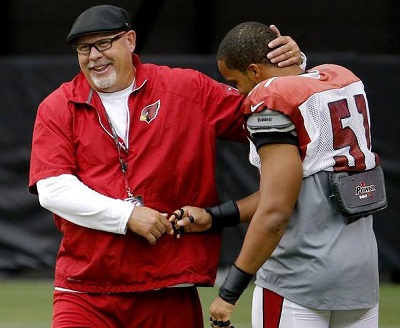 In a hiring season dominated by a get-the-hot-young-guy mentality, the Buccaneers went with the grandpa of candidates with a long list of health-related baggage.
It's a beautiful thing.
Why is it great? Because Bruce Arians isn't your typical coaching geezer. In fact, he's known for how he connects with people of all ages and backgrounds, and he's known for what they called a "booze culture" quite often this week on Arizona sports radio. Yes, Arians is not the guy home in bed watching re-runs of Everybody Loves Raymond and asking players to watch their language like Lovie Smith did.
SiriusXM NFL Radio host Pat Kirwan, the former Jets coach and personnel chief (and Bucs scout) was talking on-air today about how at his annual training camp tour with co-host and ex-NFL QB Jim Miller, he saw first-hand how Arians' relationships with players runs deep.
"I don't care how old he is; he relates to young players," Kirwan said, emphasizing that he's watched it for years with his own eyes.
The Bucs sure have missed that in their last three head coaches, and it likely will be an important element to what's hopefully a fast turnaround.
Kirwan also stressed how hard Arians will coach Jameis Winston from Day 1 and how good he'll be for Jameis.