DeSean Jackson Offers A Look Inside Jameis Chemistry Issues
January 30th, 2019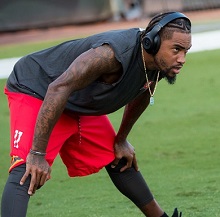 Call this Part 2 of DeSean Jackson's airing of grievances.
Part 1 is linked here. It's Jackson sharing yesterday his desire to play for the Rams and how coaches don't understand that he shouldn't be asked to practice much.
As part of that conversation on The Simms & Lefkoe Podcast, the Bucs' malcontent wide receiver explained that he's not in place in his career where he can be working on chemistry and timing with a young quarterback who wants to connect with him better.
Jackson was joined by his former teammate, retired QB Michael Vick, and Jackson praised Vick's "camaraderie and leadership" for often telling him not to run hard on practice routes because Jackson preferred to save his body for Sundays.
It seems Jackson doesn't get that from America's Quarterback, Jameis Winston.
"Not to say anything bad about anybody else," Jackson said, "but you have younger guys that need the reps on a Friday where they have to see it. (Changes voice to imitate a quarterback) 'Like I need to see me throwing my hardest to get [ready].'

"I'm like, 'Bro, I'm in my 11th year, like, you know, let's calm this down a little bit. Let's get ready for Sunday.

"Having a guy like that, like I feel like in my career right now, that's where I'm at. I need a guy that understands that. You know, sometimes every rep in practice you don't need that [maximum effort]. But as long as when gametime comes you get that, then it's there."
Yeah, it's quite clear that Jackson is talking about Jameis there. And this entire explanation jibes with the Josina Anderson report (ESPN) that claimed Jackson had issues with Dirk Koetter.
Joe sure hopes intelligence prevails at One Buc Palace and Jackson is not on the 2019 roster. Jackson is on record saying he wants to play for the Rams. At best, he's a one-more-season player for the Bucs, a team that's more than one season away from a Super Bowl.
What a miserable free agency signing Jackson turned out to be.