Chris Godwin Says Doubt Crept In
January 1st, 2019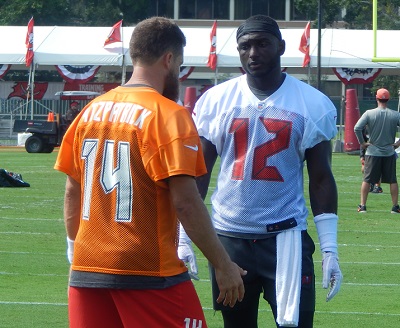 Second-year receiver Chris Godwin got a little candid with Joe after the season finale against the Falcons.
Godwin dropped two consecutive clunker games in December and Joe and a lot of fans were doubting him.
After all that talk from Dirk Koetter and Jason Licht about how Godwin is a No. 1 receiver talent, it was hard not to wonder what the heck happened. Godwin had just one catch on 13 combined targets against the Saints and Ravens.
Godwin bounced back against the Cowboys and Falcons and Joe asked Godwin if he struggled with his confidence after those two rough games.
He did.
"When you're not playing well you just kind of second guess yourself. That was something I was going through, and that's a battle I was fighting by myself just to get back on track and try to get back to doing the things that I know I can do," Godwin said.
The 2017 third-round pick noted that confidence battle was a first for him as a professional.
"I hold myself to such a high standard that when I'm not playing well, you know, I'm just like, 'Man, I know this isn't me.' Climbing out, getting out of my own head, isn't always easy," he said.
Revealing stuff from Godwin. A lot of players wouldn't admit publicly to struggling with confidence.
Just like in 2017, Joe's glad Godwin finished 2018 on a very high note with a 114 yards and 2 TDs against Atlanta. The Bucs likely will need him next season to be a true No. 2-receiver.
With 59 catches for 842 yards and 7 touchdowns for the season, 22-year-old Godwin should have inspired confidence in every Bucs fan.