QB Change To Embrace
January 25th, 2019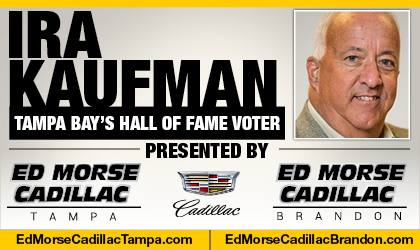 BY IRA KAUFMAN
It's time to focus on the man behind THE MAN.
There can be no doubt that Jameis Winston enters the 2019 season as the undisputed starter at quarterback, as it should be. Bruce Arians has gone out of his way to assure Winston that he has his back during this make-or-break year.
But after making every start for the Bucs in his first two seasons, Winston has missed 10 starts the past two years due to injury, suspension and erratic play. Ryan Fitzpatrick and Ryan Griffin are both unrestricted free agents, so there's a good chance Winston will have a new backup next fall.
That's a good thing.
I'll be the first to give Fitzpatrick his props for that stunning 2-0 start, which included beating Drew Brees in a shootout on the road. That's not supposed to happen, but Fitzpatrick was sensational in the
Superdome and sharp at home against the defending champion Eagles.
But as the season wore on, Fitzpatrick reminded Buc fans why he is considered a journeyman.
He lost his final five starts, throwing 11 picks in the process. When the season concluded, Fitzpatrick's interception rate of 4.9 percent was by far the highest in the league. Buffalo rookie Josh Allen was next at 3.8 percent, followed by Winston at 3.7 percent.
As Fitzpatrick told me late in the season, Buc quarterbacks threw far too many picks, no matter who was under center.
Old New Blood
The Bucs should allow Fitzpatrick to test the free-agent market. He enjoyed a positive working relationship with Winston, but there's too much history between them — some of it testy history.
Winston didn't think he deserved to be benched after the debacle in Cincinnati and Fitzpatrick didn't appreciate losing his job after a 2-2 start against rugged competition.
If Winston struggles in a game this fall, he doesn't need to be peering over his shoulder pads at Fitzpatrick on the sidelines. He doesn't need a segment of Buc Nation calling for Fitzpatrick to replace him again as a starter.
Arians is already on record as saying he's not a fan of lingering competition at the quarterback position. You pick your starter after training camp and you stand behind him.
That's why the Bucs should move on from Fitzpatrick. If Arians seeks a veteran backup, he might consider Matt Schaub, who carried the clipboard for Matt Ryan in Atlanta last season. Schaub has 92 NFL starts and he has no illusions about his role at this point in his career.
If Schaub signs with another team, don't be shocked if the Falcons and new offensive coordinator Dirk Koetter show some interest in Griffin. Koetter couldn't stop talking about Griffin's bright future, even though he has never thrown an NFL pass in a game that counts.
There's no reason to believe Arians will share Koetter's enthusiasm about a player who lacks a shred of regular-season game tape.
Winston's suspension has long been lifted, yet he is still weighed down by doubts. That 21-33 career record has the full attention of the quarterback whisperer, who will carefully choose Winston's backup.
The plan calls for Winston to start all 16 games. But plans change and Arians needs a backup plan … just in case.
Tampa Bay's quarterback room needs a facelift. Fitzpatrick and Griffin need to move on.
It's time for a new No. 2.
Ira Kaufman began covering the NFL as a New York Giants beat writer in 1979. He arrived on the Buccaneers beat in 1985. The corporate leash was removed from his neck when he joined JoeBucsFan.com in July 2016. The award-winning Ira Kaufman Podcast fires twice per week, and Ira's columns appear thrice weekly, except when Ira is on special assignment. Tampa Bay's only Hall of Fame voter also is a popular guest on various national radio and on local TV.