Inside Bruce Arians
January 9th, 2019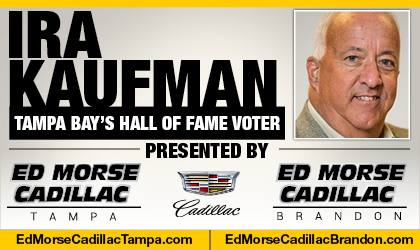 What does Bruce Arians think about quarterback competition, team expectations, Todd Bowles, drafting an O-lineman early, and more? The Sage of Tampa Bay sports has answers.
BY IRA KAUFMAN
More good news for Buc fans.
You don't have to wait for an introductory press conference at team headquarters to get a jump-start on the football philosophy of Bruce Charles Arians.
During his five seasons as head coach of the Cardinals, Arians held court each March at the NFL owners meetings, fielding an array of questions from media representatives.
Here's a tasty sampler for those wondering what to expect from Dirk Koetter's 66-year-old replacement:
On new Bucs defensive coordinator Todd Bowles, a player he coached at Temple and his DC during his first two years in Arizona. Bowles was just fired by the Jets after four seasons at the helm:
"I think it took about five years too long for Todd to be a head coach," Arians said. "I really thought I'd be working for him. When he was the interim coach in Miami, I called him and said, 'Hey man, I'm going to need a job one of these days. Just keep me in one of those consultant jobs.' He's the brightest football player and probably the brightest coach I've been around. He can teach it. He knows how to simplify the game, put you in a position to be successful — and that's what good coaches do."
On raising expectations. Heading into 2014, his second year with the Cardinals, Arians knew the Super Bowl that season would be played in Glendale.
"We talk about it in the first meeting, then we don't talk about it anymore," he said in 2015. "That's the goal every year. Last year, it just happened to be in our stadium. It was easy to look a guy in the eye and say, who's dressing in your locker? We don't have that, so I have to come up with a new line this year. The goal is to win the Super Bowl. We won't shy away. We talk about it the first day and then we talk about the process, every day the process."
On how he judges young quarterbacks.
"I personally don't look at stats. I've seen too many guys with those stats fail over the years. It's how does he play the position? What's he do on the next play when he gets the crap knocked out of him? How does he respond to an interception or a bad play? His body language, his demeanor in the huddle. You have to have a guy in that huddle that when he calls a play, the other 10 guys believe it. Some guys can throw the ball through the wall, but that's not really playing quarterback."
On improving a quarterback's accuracy.
"Up to a point, you can. I call it going to the driving range. If a quarterback is not on the driving range for 30 to 45 minutes every day, working on his craft, his footwork, his accuracy, then he's not going to be a real good quarterback.

"The really good ones I've had, they've worked on it, just like Tiger and Rory. Those guys are great golfers but they are out there practicing on specific things and the quarterback has to be out there with his coaches, working on his craft. Yes, a guy can get better. Can he get extremely better? Depending on what you're trying to fix. If you're trying to overhaul a swing (with the arm), giving him a new motion, at this level? That's tough to do. You saw Tiger struggle for two years. We don't have two years to wait. I think you can fix them some."
On drafting an offensive lineman with a premium pick.
In 2013, the first year of the Arians era in Arizona, the Cardinals chose Jonathan Cooper at No.7, the highest slot any guard had been drafted since 1986.
Plagued by injuries, Cooper has been with six NFL clubs. He started for the Redskins at Tampa in November.
"I think if he's not a dynamic player, the answer is no. If it's Alan Faneca, yeah, I'd take him. If he's going to go the Pro Bowl for 12 years and be a difference maker, why not?  If you're going to get a Pro Bowler, a 12-year starter with the seventh pick, you take him, regardless of position."
Sounds like he's looking for the next Quenton Nelson.
On opening up competition for the starting QB job.
"I'm not a two-quarterback guy. It's extremly important. We don't want different factions of the locker room politicking for guys. I've always been a one-quarterback guy. When you've got two, you don't have one. That's been my philosophy all these years. If we're out there competing to see who the quarterback is, we've got a problem."