Mark Dominik: Hold Up On The Defensive Housecleaning, Le'Veon Bell A Possibility
January 10th, 2019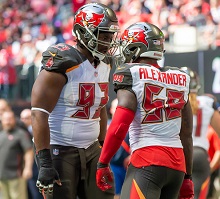 The Tampa Bay general manager with the most wins over the past 10 years was talking about the Bucco Bruce Arians hire today, along with a potential Bucs target in free agency.
Former rock star GM Mark Dominik was on WDAE-AM 620 and first referenced the difficult transition to a new head coach for a working general manager, something he experienced when Raheem Morris in 2011.
That's the predicament Dominik believes Jason Licht found himself in last month.
"If you're having conversations with the Glazers about, you know, who the next coach is going to be and you're looking at Dirk Koetter walking down the hallway, and all the other coaches that may or may not hold their jobs, that's a hard place to be in," Dominik said. "But that's part of being a general manager."
Dominik went on to caution fans about assuming there will be massive overhaul of the defense and that a base 3-4 defense is guaranteed to appear in Tampa next season. The reason, he said, is because new defensive coordinator Todd Bowles is a master at working with the talent he has, and a master at adding great pieces in the draft.
Dominik said Bowles will run a 4-3 defense if that's what best. But there will be a "massive push to work on the back end on that defense," he added.
On free agency, Dominik said running back Le'Veon Bell is a possible target for the Bucs because of what rookie Ronald Jones did/didn't show this season, but Dominik said it's more likely Arians is thinking he got All-Pro David Johnson as a third-round pick with Arizona and would prefer to spend big free agency money on the secondary and/or offensive line.