Will Cameron Brate Need Surgery?
December 26th, 2018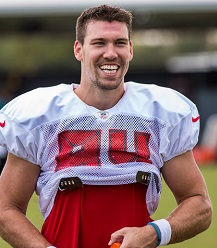 Joe had a simple question for Dirk Koetter today, one that prompted a complex response.
Joe asked the head coach whether the steep decline in catches and overall production by tight end Cameron Brate this season was on Brate, in part, or was he just caught in the mix of a team that has a lot of valuable weapons.
Koetter responded to say Brate has been battling injury behind the scenes the entire season and more would come out on that soon.
"He hasn't been healthy since Day 1. He's done an unbelievable job fighting through it," Koetter said of Brate.

"If you knew the amount of rehab Cam does just on a weekly basis to be able to play, it's pretty remarkable that he's out there playing at all. There's be probably more information on that after the season's over."
Joe followed up to ask whether 27-year-old Brate would need surgery, and Koetter said he already had said all he's going to say about the matter.
Brate's biggest game of this year is 36 yards at home against Carolina in December. One other time he broke 30 yards. In total, he has 28 catches for 250 yards in 15 games. His six touchdowns, though, made a consistent red zone threat for the third consecutive season.
It sure smells like surgery is coming for Brate, which is unfortunate. Shoulder? Back? It's all guesswork now. But at least this nugget from Koetter explains a lot.