"For Me It's The Same Thing As Playing At Home"
December 26th, 2018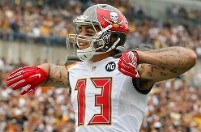 Joe is not playing "gotcha" here with Mike Evans, but Joe thinks this is a telling nugget when it comes to the mentality of the Bucs and the team's losing culture.
And let Joe be clear, that losing culture is certainly not on the shoulders of Mike Evans.
In Sunday's postgame locker room, Evans was asked about the Bucs' struggles playing on the road, where they haven't won since opening day. Of course, Jameis Winston, America's Quarterback, is riding a two-year road losing streak, as well.
Evans talks about how for him a game is a game and all he needs is a ball and a field. And Evans goes on to say about playing on the road, "For me, it's the same as playing at home," he said.
Can you imagine any Buccaneer saying this 15 or 20 years ago? Joe thinks this really illustrates how miserable the Bucs' home-field (non) advantage has been at the Den of Depression.
It's really not about Evans, it's about the fact that this could even come out of the mouth of a Bucs player who cares deeply.
When the new Bucs head coach arrives, Joe hopes one of the first things this guy does is instill a mindset of how home games are life and death, how that home turf must matter.
Practice there once in a while if you have to. March into the marketing department and demand they get engaged with something more than weak slogans and pretty computer graphics, and tie them into the in-house media to help build a real energy around home games.
It's not solely about wins. Crafting a home field advantage requires an organizational buy-in — the kind that would make a comment like Evans' something that would be completely foreign to everyone who wears the uniform.