The Challenge Of Challenges
December 27th, 2018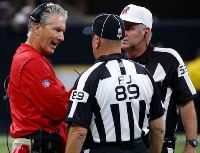 Joe cannot imagine the chaos.
It's an important part of a close game, a play doesn't go your way. Players are screaming for you to challenge the call on the field. You can't see anything on the JumboTron (if anything is shown). And you are waiting on a designated assistant to get a decent replay on TV in the coaches' box, a guy who is likely cussing up a storm that the producers of the FOX broadcast are dragging arse in showing it.
The clock is ticking and you have seconds to make a decision that may determine whether you win or lose.
That's the fun of being an NFL coach.
Last week Joe asked Bucs coach Dirk Koetter to give fans an idea of the craziness on the sidelines when trying to determine if he should toss the red challenge flag.
"It's not just challenging penalties, but it's challenging spots or catches, no catches – stuff like that," Koetter said. "The biggest issue with any challenge is will somebody get a clean look at [the replay]."
Koetter mentioned the biggest key is to see a replay that is obvious either way. Sometimes that's on the scoreboard. But on the road, there is gamesmanship involved. Koetter hinted in a visiting stadium the powers that be are not as likely to show a replay that may go against the home team. Then, the Bucs are reliant upon the TV feed.
"It's a lot different when you're home or whether you're away," Koetter said. "These teams are smart, and they know when to show [a replay] and when not to show it on the screen. We have somebody in the box that I'm listening to and even though you have other people saying stuff – I'm listening to the guy in the box.

"Sometimes it just works out where we don't get a look. You might've challenged it, but if you don't get a look" it's difficult to challenge on a hunch.
Koetter admitted it was a lot easier when he was in college because replay officials monitor each play and it is not up to a coach to throw a challenge flag.
Joe is guilty of sitting on the coach and thinking a challenge decision looks easy. On the sidelines, Koetter has all sorts of people screaming at him. Then you have to hope stadium operations or FOX or whoever is broadcasting the game can air a replay quickly for Koetter and his staff upstairs to make a call.
That's a high-pressured decision with seconds of a window to decide to throw the red flag or not.