Take Risks But Don't Gamble"
December 20th, 2018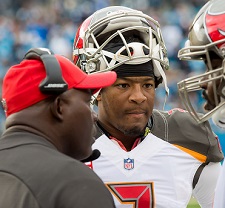 The new subdued and extraordinarily mellow version of America's Quarterback, Jameis Winston, was back on display today during his weekly news conference at One Buc Palace.
It just feels so strange to Joe seeing Jameis so overly calm and even. It's been an odd transformation.
Jameis was asked, in general terms, whether his game has been neutered because he's so focused on not turning the ball over. He waved off that notion, saying he is still scrambling and looking to make plays.
"Take risks but don't gamble," Jameis said, noting that's best explanation of his football mindset.
Joe liked the phrasing. It's good to hear Jameis say he's just taking calculated chances and risks. Still, Joe thinks Jameis looks a little neutered on the field, playing a little scared at times.
Joe would love to see a complete and spirited game from Jameis on Sunday against Dallas. He looks like he could use a little fun that a win and a good showing would provide.
Today's video is below.