The Second Round Curse
December 25th, 2018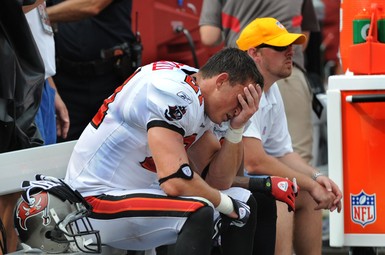 For years, even during the Chucky administration, the Bucs have been cursed with second-round picks.
Rarely this century have their second-round picks amounted to anything. The names are like a sordid Who's Who of Ghosts of Bucs drafts past.
Just think of the names. (The bad) Dexter Jackson, Sabby the Goat, Roberto Aguayo. That's enough to hit the egg nog a few times today just to try to make your memory go blank.
Well, Greg Auman of The Athletic has some information that will make any Bucs fan do a facepalm.
One more from Bucs-Cowboys: Ronald Jones, Noah Spence and M.J. Stewart all played only on special teams. Wild to have three second-round picks (two rookies) with a combined zero snaps on offense or defense. pic.twitter.com/PjQZy91spQ

— Greg Auman (@gregauman) December 24, 2018
And there you have it. Anyone that thinks the Curse of the Second Round Picks is over should think again.
Besides, talk about a Christmas present. Stewart, RoJo and Spence are getting paid decent Team Glazer loot to watch games just like the rest of us.