Rare Opportunity Coming For Jameis
December 10th, 2018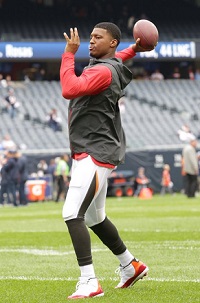 America's Quarterback, Jameis Winston, said last week that he consults with a few ex-NFL quarterbacks, guys he won't name publicly.
Jameis should add David Carr to his list.
Jameis and the former Texans QB, also a former N0. 1 overall draft pick (2002), are going to have plenty in common next season. Assuming Jameis returns to the Bucs — and Joe is very confident Jameis will — he will be the first Day 1 rookie starting QB since Carr to return to his team for a fifth season as a starter without making the playoffs.
Carr completed 68.3 percent of his passes in that fifth season en route to a 6-10 record and a last-place finish. Carr was gone the following year and was a backup for the remainder of his career.
Jameis, of course, is more talented and accomplished than Carr ever was.
Still, it's a rare opportunity coming Jameis' way. And Joe thinks Jameis should appreciate the historical nature of it. Losing, regardless of the reason, is rarely tolerated this long.
Jameis' career record as a starter sits at 21-30