No Running Game Hurt Koetter
December 30th, 2018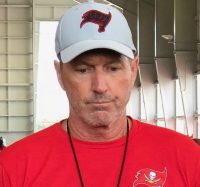 Consider these numbers.
What do 871, 423 and 560 represent? Those are the total yards rushing the Bucs had from their leading running backs in each of the past three seasons. Those were accomplished by Peyton Barber the past two seasons and Jacquizz Rodgers in 2016.
Folks, when Rodgers is your leading rusher for a season, you have an issue.
And despite draft picks spent on running backs, one of which being a second-round selection, the Bucs under Dirk Koetter as head coach could not develop a running game. And to be honest, not quite 900 yards rushing in 16 games this season is nothing to brag about.
SnoopDog McPlaybook was a bust and Charles Sims was a misplaced slot receiver before he was hurt and released. Ronald Jones sure looks like a bust.
And while this may be a chicken-or-egg argument, after a while it's no longer an accident but a pattern. You have to wonder if Bucs AC/DC-loving general manager Jason Licht and his scouts are really that inept at selecting running backs or was Koetter and his staff just that bad at developing young backs?
Either way, the fact Koetter couldn't develop a consistent running game and relied on washed up Doug Martin time and time again (like sticking with defensive coordinator Mike Smith) did not do his offense or his young quarterback any favors.
Yes, the Bucs offense was dangerous, but they were terribly one-dimensional because of virtually no ground attack. Throw in a bad defense and Koetter had no choice but to throw the ball and throw the ball and throw it some more.
So when fans are sizing up why Koetter is no longer the coach of the Bucs, never developing a running attack in three years is a big reason why Koetter will be fishing this week instead of breaking down Bucs tape.