"No Bad Guys"
December 14th, 2018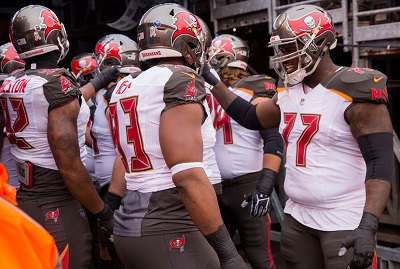 Encouraging, telling and heartfelt words about the Buccaneers' locker room further illustrate just how disappointing this season has been.
There's no more candid Buccaneer than veteran right tackle Demar Dotson, who joined the team in 2009.
He'll call it straight, especially when he's talking about team history.
Dotson was on the Buccaneers Radio Network recently and shared a very cool story about how defensive coordinator Mark Duffner delivered the team an inspired speech the night before the Bucs beat the 49ers last month. Big Duffner themes were playing for the guy next to you and remembering why you love your job.
Doston reflected on that and how players responded, and he noted the following:
"That locker room is good. We don't have no bad guys in there. And that's one thing that we haven't had in a long time. No bad guys," Dotson said.
Joe has talked to Dotson enough times, inside and outside One Buc Palace, to know he really means it when he says the Bucs have rid the locker room of "bad guys."
It's a shame. The Bucs have lots of talent, and a team that seems to care, yet they can't manage to win half their games.
Joe hopes the next head coach can take better advantage of the good that's in place.
---
Derrick Brooks is talking all things Bucs on this week's Q&A episode of TAMPA TWO with JoeBucsFan.com columnist Ira Kaufman, presented by Caldeco Air Conditioning & Heating. It's another great production by The Identity Tampa Bay. (Look for tomorrow's game preview episode!)